Happy Saturday!!! Today I'm doing the usual and linking up with Katie over at
Loves of
Life
to show you our Saturday Morning Scene:)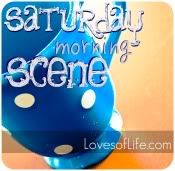 The hubs is off to remediate this little message that has been appearing on the dash of our truck for several weeks now (ooppss!)
And...I am hoping to get this ever-growing pile of laundry done today (yes, thats pretty embarrassing that I've let it get that out of control).
I also have some work to do today but thanks to electrical work in our company building - I'll be able to work from home today:)
And..have I mentioned how thrilled I am that signs of spring are EVERYWHERE!!!
my camellia bush is in full bloom
and of course...my favorite thing about Saturdays is hanging out with this girl...