I am linking up with Katie over at "
Loves of Life
" this morning to show you our Saturday Morning Scene!!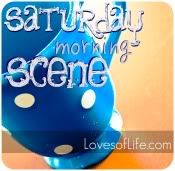 It has been rainy, cold, and dreary here since I got
back
(not to mention my drive back from SC on Wednesday). BUT, this morning it is B-E-A-utiful and I could not be more thrilled about the prospects of a gorgeous Saturday!! We are planning to join some good friends that we have not seen in forvever for a mid-day cookout and then watch the final 4 game (go VCU) at
BB&B
..but first we are headed over there for a wonderful breakfast (yum!!)
spring has sprung :)


All of this rain really gave the grass we planted (from our flower bed conversion
here
) a boost and I'm loving the bright green shoots that are popping up all over the place!!
looks like my peonies are surviving
Also on the agenda for the weekend is the dreaded laundry, house cleaning, and 6 month birthday celebration for my little girl on Sunday (where has the time gone)!
Happy Saturday...happy weekend :)
J
can't wait to spend the weekend with this girl!