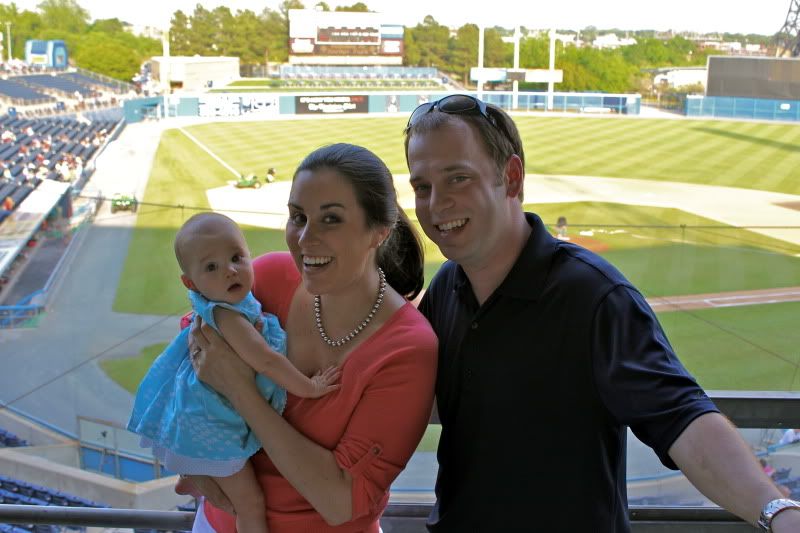 our fam - Harbor Park 5.7.11
This past Saturday Addie attended her
f
irst baseball game
and helped cheer the Norfolk tides (Triple A affiliate of the Baltimore Orioles) on to a 5-2
victory
over Indianapolis. The weather was perfect when we got there but cooled off a bit when the sun went down. We had a wonderful time with lots of family and some close friends and even got a
special visit from Rip Tide
, the team mascot. Addie wasn't sure what to think of the big blue hairy blob but she let him hold her and we got a fun family picture out of it!!!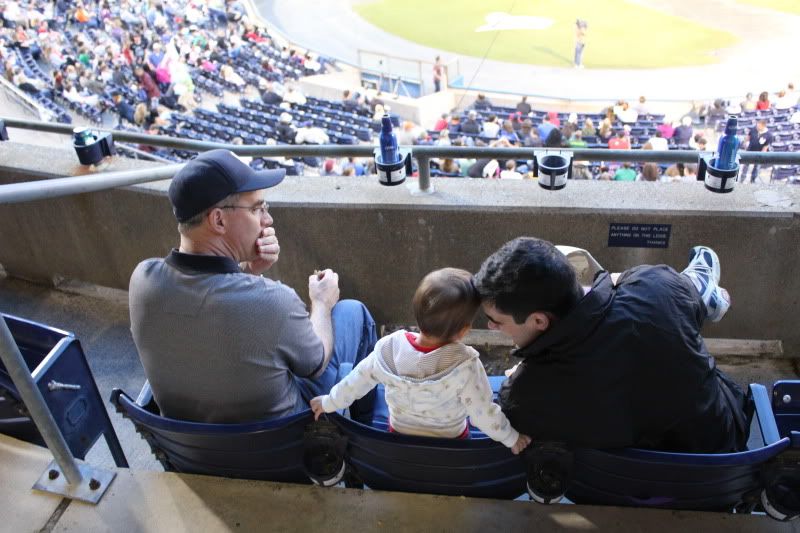 my Uncle J, baby Charlie, and cousin D
A
huge thanks
goes out to my cousin D, who was kind enough to deflect a foul ball from my husband's head (note to self -
don't text and watch live baseball at the same time
). Addie also got to play with (or really just stare at) her cousin (I'm not sure if its second or twice removed - it's my cousin's son - but for simplicity sake we're calling him cousin:))
Charlie
who was super excited about the game. It was amazing to watch - he's a bit older than Addie so he was obviously way more engaged in everything but it's crazy to think she'll be all.over.the.place like that in just a short while. Charlie was way more enthused about Rip Tide and after Rip Tide left the box,
Charlie continued to walk around and sign "more" because he wanted to see Rip Tide again
- too cute:)
Charlie and Rip Tide - too cute!
I'm not a huge baseball fan but theres just something about going to the game that does it for me - we had a
BLAST
and will definitely be doing that again!!
J