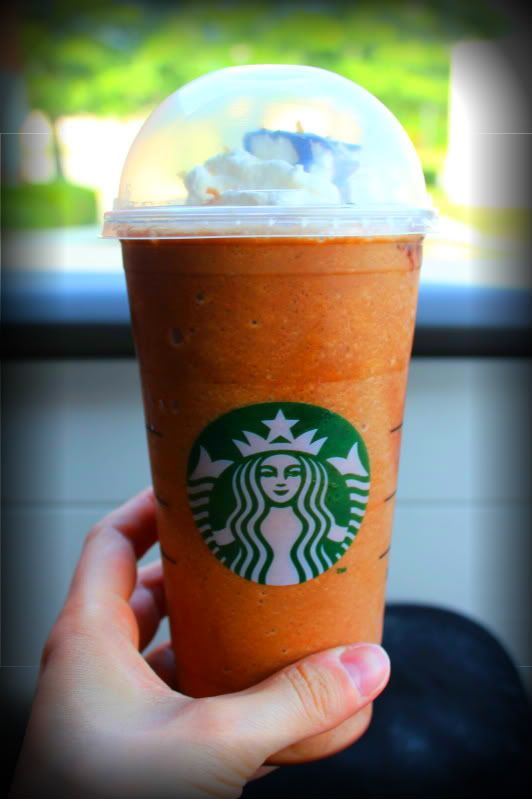 a pic of my coconut mocha frap
1.
Get our flower beds mulched
- The hubs and I have been talking about and planning to do this for several weeks now and my flower beds
still have faded mulch in them
. This
HAS
to be done this month. -
This still has not been done and I'm debating as to whether or not its worth it to hire the company that usually delivers the mulch to not only deliver it but also spread it. I really hate paying for things I know I can do but spreading mulch is awful and can be back-breaking work. SO - I'm going to call tomorrow and figure out if the price differential is worth us not spreading it ourselves.
2.
Clean out and organize our guest room
- What a disaster this room has been since before Addie was born. While cleaning out what was to be the nursery (it was previously our home office) this room somehow became the
catch-all room
for everything we didn't have a place for. I
can't live with this room like this any longer
- I practically break my neck everytime I venture in there. -
No luck here either, BUT with Mother's Day the first weekend of the month and the hubs out of town this weekend - I need a helping hand with Addie and it looks like this coming weekend will give me just that.
3.
Enjoy EVERY.DAY of the Starbucks happy hour promo -
Yep - I'm making it a goal to treat myself to a delicious half price frappuccino
everyday between May 6th and the 15th
. And just to spice it up a little bit, I'm going to
step out of my comfort zone and try a different flavor each day
(yeah, all those ones on the menu I always wondered about - its time to sip and see:)) -
UUMM yea, I definitely hit this on the head. YAY! me :) Here are the days and flavors I tried:
5/6 - Java chip - i think i got a bad barista on this one - the chocolate syrup was a little too obvious but otherwise would have been great (my hubs also got this one but at a different sbux and said it was amazing)
5/7 - Coconut Mocha - heaven in a cup - tastes like a somoa girl scout cookie - my fave
5/8 - Caramel - the perfect caramel-coffee blend
5/9 - Coconut Creme - just like coconut creme pie - perfect for summer
5/10 - Double Chocolaty Chip - not quite a chocolate milkshake but the chocolate chips make up for the differential
5/11 - White Chocolate Mocha - yum, just right
5/12 - Strawberries and Creme - very close to a strawberry milkshake
5/13 - Cinnamon Dolce - ever been interested in a liquid cinnamon bun
5/14 - Vanilla Bean - this tastes just like a vanilla milkshake
5/15 - Mocha Light - after my calorie counting started yesterday - I went light today to try and stay within my goal (alot of my venti fraps were costing me around 500 calories a pop!) - not too shabby
4.
Go to the gym 3 times a week
- As I've said before, I'm easing into this whole "getting back to where I was before" business and I'm really trying not to do a complete 180 right away. My past experience with myself is that I'm super gung-ho at first and than
just like a firework I fizzle out
to nothing. Thats no good - considering I want this to be a
permanent change
. So, I joined the gym, I've got the pedometer (with cash incentives for doing well) and now I'm going to make sure I use the gym!
Well - I'm probably making excuses for myself here because I don't want to admit that I haven't nailed this one but after a slight run in with the neighbor's dog (I got bit on the leg - he didn't break the skin but bruised me pretty bad and it was tender for a few days) I took 2 days off. BUT, I went to my personal training sess yesterday - found out I also get two more free as well - this helped to re-motivate me and I also added logging all of my meals to my daily routine so I can monitor my caloric intake and measure it against my workouts so I can ensure I hit my 6 month goal.
5.
Transition Addie's closet to summer
- As much as it
breaks my heart to pack away anything
knowing that she will never wear it again, those fleece sleep n' plays have no business in her closet! They are way too hot for our house as the weather warms up and
I need the hangers
for all of her summer stuff:)
I'm about 1/3 of the way there. I have removed all of the fleece stuff from her closet but I need to look at the rest of the things that are hanging in there that haven't seen the light of day in several weeks.