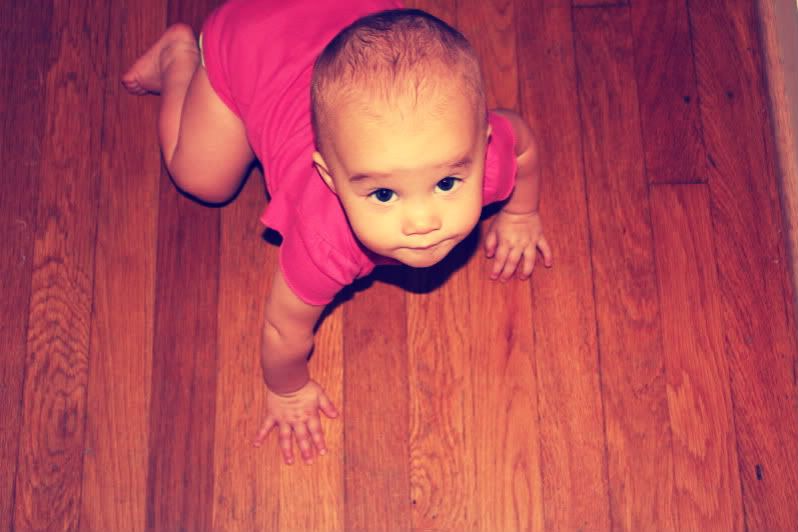 our little Addiegator
Diaper changing has been a chore since Addie was about 4 months old...and
not because I mind changing diapers
...its
the production that diaper changing has become
. At 5 months we stopped using the changing table because of her rolling around and my severe anxiety of her rolling off the table. We used the crib until we had to lower that because she was starting to pull up and now we are on the floor in the living room most days with a changing mat. It never fails though...any diaper change involves one of more of the following:
1.
Big crocodile tears
- Loud wailing and lots of crocodile tears over the diaper change...she generally stares right at me while doing this as if to say..."momma, are you really putting me through this-can't you see you're breaking my heart?!"
2.
Flipping to her stomach
- Despite me holding her legs she will flip her body over and do her best to crawl away from me - if I stop her...cue #1 above. The worst part is that she usually does this before I have a chance to wipe her...and for the sake of my rug which just so happens to be dark brown - it's kind of a mess. She is one feisty and determined little girl...wonder where she gets that from?!
3.
Playing with her just removed dirty diaper
- uugghhh...gross. I try to keep it as far from her reach as possible but sometimes she gets it...a tug-of-war match generally follows.
Any mommas out there
have any advice
for this momma on how to make this process any easier?? I have seriously almost started sweating before over a diaper change because of the amount of energy it takes some days.
My best trick has been to hand her something to keep her occuppied
and work as quickly as possible but with a 3 second attention span - it just doesn't buy me much time these days!
J