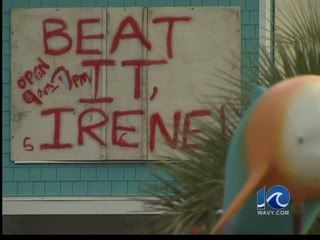 As I sit here writing this post I can't help but lament on the fact that we should packing our car for a one week vacation in Charleston...instead, the proverbial "waiting game" has begun for Hurricane Irene. Things are looking better this evening than they were yesterday with the storm showing some signs of weakening but we are still being warned that this will be a very bad storm with widespread damage to property, flooding, and prolonged power loss (defined by our local news as 4+ days). The hubs and I have spent the last 3 days ensuring we have the proper supplies and done everything we can to secure our property. We've stowed away all of our outdoor furniture, bought tons of water, purchased a generator for a small fee (ouch! those things are pricey), organized our fridge and devised a meal plan for no power, filled every tank we own with gas, bought plenty of charcoal for grilling, taken pictures and video taped a tour of our house for insurance purposes, and screwed any loose doors shut (screen door on back porch and shed doors). I'm exhausted from not only all of this hurricane preparedness that has consumed us but also from a crazy, long, and stressful week at work. My largest concern right now is the 100 ft. pine trees that line our property line but belong to my neighbor so I can't touch them....yet, they could slice my house in half if any go down. And just as fate would have it...one of those suckers is dead...like all of the needles are brown and bark is starting to rot off...which as a responsible homeowner would generally mean you would have the tree taken down. Nope...not my neighbor...he has brand new windows and a new roof on his house...but the dead tree stands. At this hour...that is what is scaring me the most. We do not live in any form of flood plain and are actually located on some of the highest land in Virginia Beach (see....there are perks to not living on the beach:)) so I am not concerned about water coming into my house as a result of flooding. The thought of power loss is unsettling but I've excepted that and know that it's temporary. But the thought of a tree coming through my house...terrifies me. They are calling for sustained tropical storm force winds for approximately 21 hours with hurricane force winds and higher gusts in there as well...starting tonight. Tomorrow will be nerve rattling and I'm sure by Sunday when Irene has left to wreak havoc on other parts of the east coast I will fall flat.
I have no idea what will happen to my blogging...I suppose power will be key to that so don't expect to hear anything for awhile but I am hoping to
tweet
during and after the storm. I too want to apologize for not reading and commenting on blogs this week...as you can see, I've been a bit....uummm, distracted. The good news though is that the crazy amounts of rain we are expecting should be enough to put out the dismal swamp fire!! I'm sending prayers and hugs to everyone tonight that is sitting in the same boat we are...crazy....stay safe!
J