So thanks to a little inspiration and motivation from
Young House Love
's Pinterest challenge
...I decided to actually try to re-create one of the crafts I had so enthusiastically pinned on
Pinterest
last week! While I wont be entering their Pinterest challenge...my little craft was just a start and doesn't hold a stick to all of the craftiness they and all those that enter have...I did want to share this fun little piece of Crayola wax artwork that I made for Addie's room.
SO, first I started with a few important items:
* Box of 48 Crayola crayons
* 11x14 canvas
*
Double sided scotch tape
glue gun
* Hairdryer
* Scrap paper for the mess
And here's the play-by-play of how it all went down:
I started by laying out my canvas and attempting to lay down the double sided tape on the canvas to adhere the crayons too. Except...the tape wouldn't stick to the canvas so I scratched that idea and decided that a hot glue gun should do the trick. While the glue gun heated up, I laid out all of the crayons and arranged them in the ROY G BIV order and threw out any weird crayon colors as well as the browns, blacks, and whites. I ordered them up and one by one glued them to the canvas keeping them as straight as possible.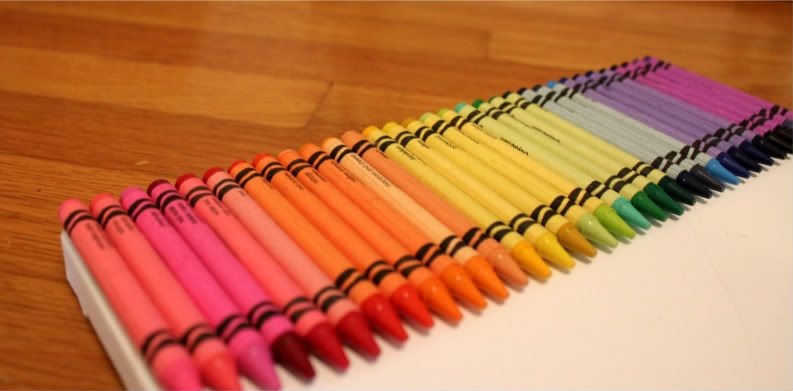 Next, I laid out some scrap paper and propped up the canvas against the wall. I turned the hair dryer on full power at high heat and held over a section of crayons at a time until they started to melt (maybe 2-3 minutes per section). Let this be your warning that the crayon wax flies everywhere if you aren't careful. I also learned quickly that you can control the direction the wax flows by simply shifting the direction and location of your hair dryer. And then ta-da - I was done. The wax dries super fast and within minutes I had a fun piece of work worth hanging....well, maybe.
It's been awhile since I've posted much that was crafty, tasty, funny...or maybe even informative for that matter BUT...I think this counts. So, I'm linking up with
Amanda's
Weekend Bloggy Reading party to showcase my little DIY artwork.