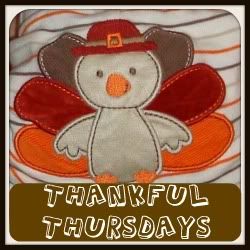 I'm back for week 2 of the "Thankful Thursday" link-up, which is being hosted by my good bloggy friend Samanatha over at "
Adventures with Gwen
." You should definitely take a few minutes and write down all that you have to be thankful for and head over and link up and share your list!
I'm thankful for
an evening full of Addie-tude to remind me of what a persistent, determined, and strong-willed little girl we have on our hands. I can only hope that as she gets older she will always stand strong for what she believes in.
I'm thankful for
Addie's complete dislike and total disrespect for my laptop. Its a reminder to me that memories aren't made with my nose stuck in a computer but rather on the floor playing with her alphabet blocks.
I'm thankful for
Addie's desire to share everything...even if its food she's already chewed. It melts my heart to see her want to share with you everything she has. I can only hope that she will always find more joy in giving than receiving.
I'm SO thankful for
such a healthy, happy, and beautiful baby girl....she is the light of my life and I still can't believe how lucky I am to be her momma.