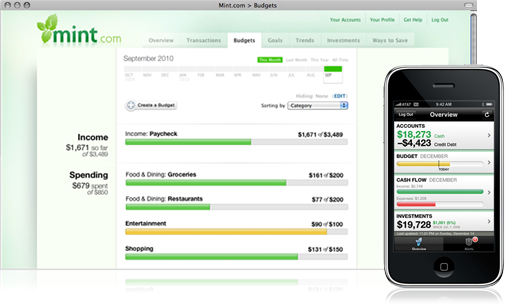 overview and iPhone app
*I have not been paid or incentivized in any way for this post. The thoughts and opinions expressed here are my own*
Ok...so I'm back for Round 2 of Modest Mondays and thought it might be helpful to divulge a little more about my love/hate relationship with a fun little website known as
mint.com
.
I LOVE it
because its keeps everything (checking, savings, retirement, credit cards, home value, investments, etc.) in one place, gives me a quick snapshot of our financial situation, allows me to budget and set goals that it will track, gives me all sorts of money-saving ideas,
its FREE
, reminds me when I have bills due, and because I'm a huge dork - I must admit that it really excites me that I can create cool graphs (because I'm a visual learner) about our financial situation.
I HATE it because when I go over budget in any category I get a nice little email letting me know that I have exceeded my budget. Talk about a spoiler...or if account balances get low - it reminds you of that too. Oh...and see it tracks the value of my home and with falling market prices...the news isn't always so good.
Seriously though...
this little site makes me smile
. I usually check it once a day to make sure all of my financial transactions are properly categorized and lining up in the correct budget line and to see what our net worth is. It is an Intuit product and claims to have the same security as online baking - I'm no IT expert so don't hold me to that but from everything I've read it seems that they mean what they say. I've read some reviews that claimed they were slow to respond with problems but when I had a problem with my bank's balance not refreshing they fixed it in a few hours.

To set everything up it took about 4 hours and it took me a couple weeks to figure out all of the cool things it can do. It's just really nice to have one place that I always have access to (as well as the hubs) that keeps everything financial together....and did I mention this is FREE! Oh...and a free app for the iPhone is a plus in my book too.

So there you have it...a quick and dirty of mint. And if you're looking for something like this or currently paying a monthly fee for something like this...head on over and at least see what they have to offer.

J