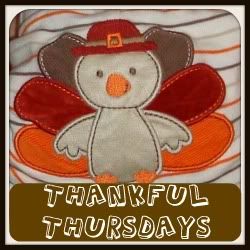 Ever have those moments when nothing...and I mean absolutely nothing seems to be going your way and then you sit back and
reflect on life in general and realize that you've got it good
?! It seems to wash away the negativity and bring to light all of the positives. I love those moments!!
On that note, I'm linking up for another week of
Thankful Thursdays
with Samantha over at "
Adventures with Gwen
." You should head over and link-up to or at least stop by and
leave some words of encouragement for Samantha
...who spent a night in the ER earlier this week because Gwen was just diagnosed with an inguinal hernia and will have to undergo surgery to have it repaired or risk more issues with the hernia. Reading stories like hers make me
so thankful for the fortune we've been blessed with in regards to Addie's health
. I cannot imagine the thought of Addie undergoing surgery this early in her life yet, I know so many parents are faced with this and other serious conditions.
I'm also thankful for
a safe trip to and from Washington, D.C. earlier this week and my wonderful husband who played single parent while I was gone.
I'm thankful for my amazing parents who were more than willing to take Addie on for a few extra hours while I was away to fit S's work schedule so he didn't have to expend any of his precious vacation time.
I'm thankful for
a special birthday celebration shared with my Poppa who turned 86 yesterday.
And to
lighten the mood a bit
....
I'm thankful for BOGO at Starbucks
on their holiday drinks this weekend (well..actually starting today and ending Sunday).
Grab a friend and GO
!!!
Again, if you have a minute, please head over and send some well wishes to my friend
Samantha
!!
J