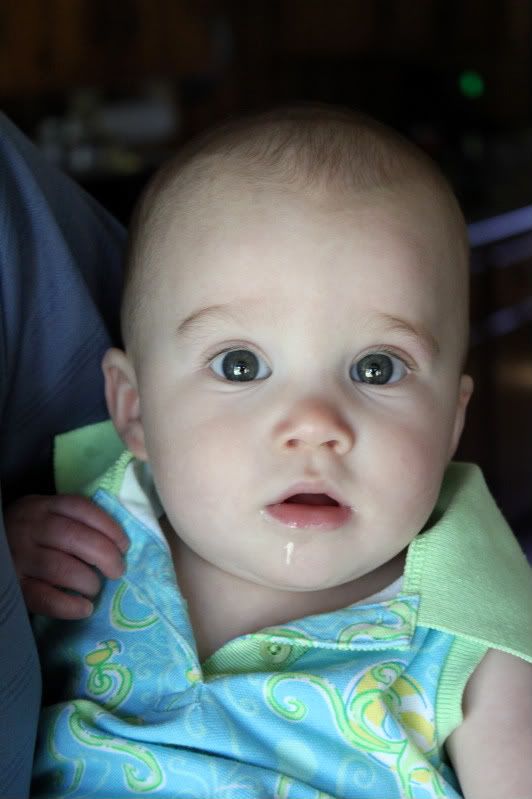 WOW...
8 months, really
?!?! I can't seem to remember anymore what my life was like before my Addie arrived and I never thought I would
embrace the 6am wake-up call
like I do. I am
so lucky to have a a healthy and happy baby girl
and while I'd love to to stop the clock and enjoy this age a little bit longer I really am looking forward to what the future holds for us!
What she's wearing
- Addie is
wearing pretty much all 6-12 or 9 month outfits
. They are a tad loose on her but the 3-6 month stuff, other than some of the dresses, is definitely too small. Summer is here in a big way...and Addie's closet is full of
fun summer stuff
- which are much more fun than the winter clothes! Her cloth diapers are still on the second set of snaps and she is still doing well without extra liners at night.
Eats
- Addie is eating about

three or four 5oz bottles

a day
and still nursing for her first feed in the morning. I pump during the day but am finding that my supply is not completely keeping up with her demand so some days we are supplementing with a bottle of formula. She is

eats three meals of solids a day

(stage 2) and generally gets some puffs in the morning
. Addie is NOT a picky eater and has not refused anything (other than the puffs to start) even the prunes...gross. Her food list currently includes the following items: to green beans, apricots, broccoli, collards, oatmeal, plums, raspberries, yogurt, blueberries, prunes, peaches, zucchini, peas, apples, pears, bananas, sweet potatoes, pumpkin, winter squash, carrots, and rice cereal. She LOVES to go for the spoon after we get finished eating - go figure!
Moves
-

We are on the move

...no textbook crawling but she is army crawling and rolling and pulling to wherever she wants to be. She has also mastered the task of

going from her stomach to sitting up

and she LOVES that she can do it!! And....she

pulled up for the FIRST time this morning

- I couldn't even believe it -

what happened to my baby

?!?! She is still a mess to change and dress because of all of the rolling around and I don't suppose thats going to get better any time soon. She really does enjoy just moving around on the floor and exploring things and its so cool to watch!!
Gummy grins and more to say
- Addie absolutely
adores her daddy
and it is so cute to seem them play together. She loves playing with her toys (she really loves her play laptop and the Einstein bendy ball) and stuffed animals (including the must have dog, Violet) and still adores our 2 pups. We also have
BIG
news in the speech department -

Addie said "da -da"
for the first time this month and has been saying it quite a bit since - somedays its all she says all.day.long. We

still don't have any teeth

but I really feel like she's been teething FOREVER...the hubs swears he can feel something on the bottom but I think it might just be wishful thinking!!
Out and about

- We
introduced Addie to the pool
for the first time this month and she LOVES it. She is

so content

in my arms in the BIG pool or standing, holding on to us of course, in the toddler pool. She also enjoys the float we purchased for her for the pool - we are SO thankful:) Addie also made

her first trip to the farm

- she mostly stayed in her stroller so it was pretty much a non-event for her - but a first nonetheless!!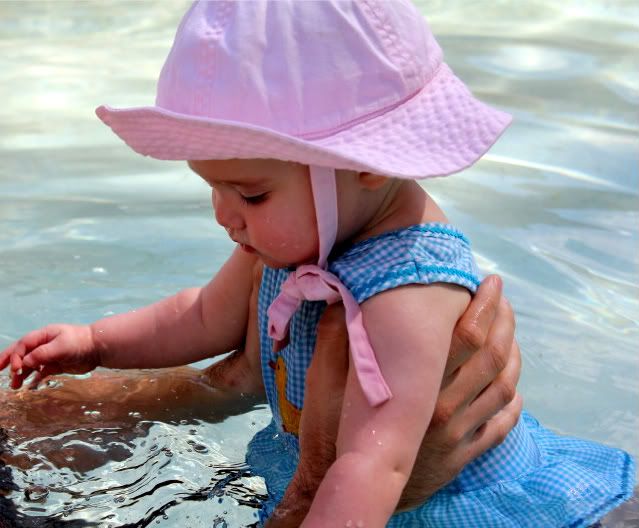 Counting sheep
- Addie

sleeps great at night

! We usually put her down around 8pm and she usually gets up around 6:30ish. We are so incredibly
thankful for her sleeping through the night
- it certainly makes everyone alot happier!
The

1st birthday party planning commenced

...the colors and theme have been chosen - the date is basically set. I've had SO much fun with it SO far and I am hoping to do a post soon on our progress. I know 4 months out

seems a bit crazy

but I'm usually more of a last minute person for these kind of things and I get really stressed about it so I'm trying to avoid that and

ENJOY her party and the planning

.