direct from the farm
Ever get the feeling that you're just
not really sure what's in the food you're buying
. Case in point...the shelf life a Twinkie that has a "cream filling" - how does that last forever...what's in it that makes it non-perishable?? I seek out the natural and organic side of the aisles as much as possible..not that I don't love me an oatmeal cream pie every once in awhile too (hello, 3rd trimester with Addie) but I also know that it can't be good. But even more concerning than the non-perishables that line the shelves are the
meats and vegetables that are sitting in your grocer's refridgerators
. Not sure if anyone saw the Jamie Oliver special (a recap is blogged about
here
) about what they're using to process ground beef these days...but if even half of it is true - its enough to send me to the farms. And...so for awhile I've been looking into local farms and the idea of
"purchasing shares" of cattle
for consumption (you can also do it with dairy cows if you want un-pastuerized milk).
I love red meat
...but have just really been turned off by whats in the grocery stores because I'm not comfortable that I really know what I'm getting (it also weirds me out that alot of the beef sold in stores is from cattle in far away places like
Mexico and other South American countries
- the FDA now requires that information to be disclosed but I honestly never thought to look). So now you're either thinking one of two things - 1)
this girl suffers from some serious paranoia
and should probably have her head checked or 2)
where is she going with all of this?
- is this a plea for me to become a vegetarian? The answer to 1) you may be right and 2) NO - I eat alot of meat but I just wanted to share my plan to get our beef direct and at a much better price too!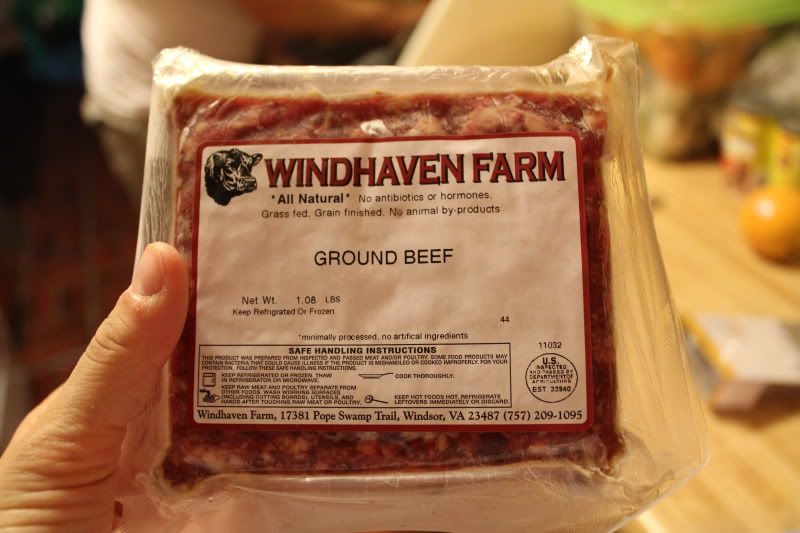 First, as I mentioned above
I looked into finding a local farm
(Virginia Beach and the surrounding areas are heavily populated but if you get about 40 minutes out of town its pretty rural and there are quite a few farmers) and found a few. It just so happened that two of those farms would be
at our local farmer's market
that following Saturday and so I persuaded my husband to join me so we could talk to the farmers and buy some of their meat to try out. We purchased some beef from
Windhaven Farm
and some pork and chicken from
Full Quiver Farm
. Funny how a 29 year old woman can get SO excited about meat. The
prices were reasonable
- the beef which was all grass-fed and natural (meaning no hormones, antibiotics, medicated feeds, or animal by-products in the feed - and raised from birth on the farm) was actually
cheaper than what I usually can find for all natural at Trader Joes
. We tried some of the ground beef that night and were left
wishing we had bought alot more
. The taste was much better than anything we had tried before and there really wasn't much grease either. We felt completely comfortable that we were getting 100% ground beef and not 90% ground beef + 10% filler (or ground beef from unknown sources). The nice lady I had spoken with at the market, who just happened to be the farmer's daughter was kind enough to send me an e-mail with all of the info on purchasing a quarter, half, or whole cow. My husband and I talked it over and decided that for the peace of mind of knowing we were getting high quality beef at a great price, which worked out to around
$6 per pound (for all cuts - so while that seems high for a pound of ground beef - its a steal for a filet mignon)
and supporting a local farmer - it was a win win situation. I sent back an e-mail letting them know we would like to
purchase a half cow (works out to about 200 pounds of meat so our deep freezer came in handy)
and it was arranged that they would be going to take several heads of cattle in that coming week. I'm an animal lover so don't even ask if we went to meet the cow or if we got to pick it out...I don't like to think about that part of it...I even got sad the day I knew they were taking them in:( Due to the process of hanging the meat and cutting it...it
took about 4 weeks before our beef was ready
. We were provided a "cut sheet" where
we could select how we wanted the beef cut
..types of steaks, thickness, weight per package, etc.. When we picked up our beef, everything had been
vacummed sealed into packages as we directed and labeled so we knew what we had
. We've already used some of the ground beef and eaten some of the steaks and the
taste is amazing
. Maybe its all mental...but I promise you there's a difference. I won't be going back to the store bought stuff...we also purchased a pork share and are waiting for that to be ready as I love pork almost as much as I love beef. I'm also really looking forward to the drop in my grocery bill as meat is no longer on the list. Thanks for sticking with me...if you made it this far...please
don't hesitate to contact me if you have any questions at all
(my e-mail is on the sidebar).
I can't attest to what is and isn't true out there in media land but I can attest to what our experiences have been with buying direct from the farm.
J