In honor of the day, I am dedicating this post to my two favorite men - my daddy and Addie's papa as well as Addie's dada and my loving husband! I count my stars daily as I am so thankful to have such a wonderful father and husband.
My dad - Growing up he was the disciplinarian, he called the shots - worked long hours and went back to school to get his master's degree but was ALWAYS at my sporting events and never missed those special moments. He listened to me when I need an ear and gave me advice when I needed that too. He was always supportive of my endeavors and made the road ahead as easy as he could. His expectations were always high but he knew how to encourage me without pressuring me to succeed. He's an amazing papa to Addie and has actually been my babysitter since I returned to work. My mom substitute teaches several days a week so many days my dad was home alone to take care of Addie and he never complained. I could never tell him just how much that means to me - my staying home is not an option in our house and I can't think of anyone I would rather have care for my daughter than my parents. I'm still amazed that they have given freely of their golden years to care for Addie while the hubs and I are working. We spent a good part of today with my dad and enjoyed a delicious dinner that my mom prepared. We gifted my dad with some private golf lessons as he has really taken up the game of golf since his retirement and now that summer is here and schools out, my mom will be home during the day, freeing up some of my dad's time. I hope enjoys the lessons and gets to enjoy some more time on the course.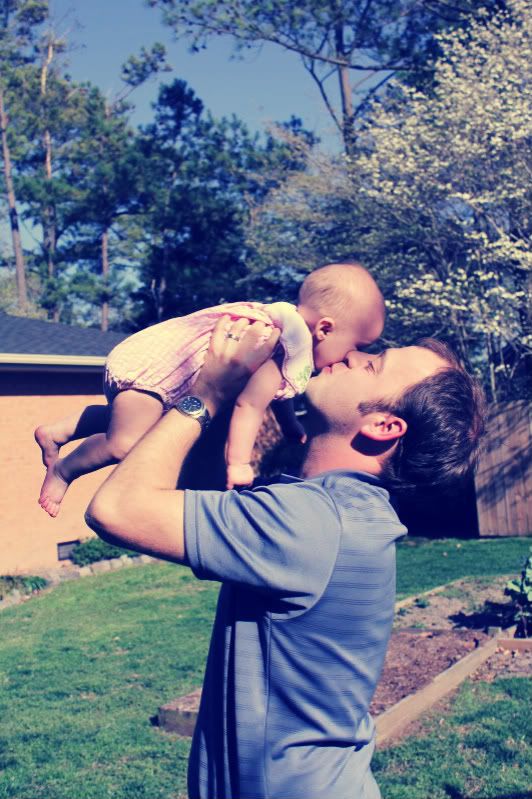 My hubs and Addie's dada - I've always known I was lucky to have such a wonderful daddy and only hoped that I would marry a man that could provide my children with as wonderful a daddy as mine was. And it should go without saying, a loving, caring, and supportive husband was pretty important too. Thankfully it was mission accomplished. My hubs is wonderful to me and loves his girls like no other - I cherish the moments we spend as a family growing together. We've shared the ups and downs of being new parents, fallen down and picked ourselves up, and cried and laughed together through all of the sleepless nights and joyful days. My hubs is my soul mate - I could not have found a better match. I can't wait to watch our family grow - you can tell by the light in her eyes that Addie adores her daddy. She gets so tickled when she sees him and loves being in his arms. There are still days, I'm amazed at how lucky we are to all have each other.
Happy Father's Day!
J