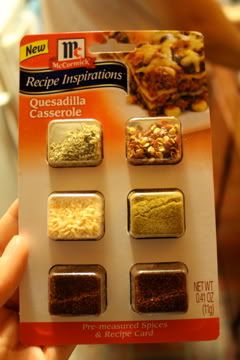 With both me and the hubs working full time and the hubs in school, we are
lucky to get cereal down for dinner
at night so I'm totally game for anything thats
easy to make
and actually
tastes like a real, thought-out, homecooked meal
. So, while perusing the grocery store aisles this weekend - which by the way I try to avoid because it always results in random things in my cart - I came across these McCormicks recipe inspirations packets, which consist of
just the right amount of spices and seasonings
necessary to make the recipe provided on the back. I
LOVE
any and all things Mexican so the Quesadilla casserole was a no brainer for me. I
made this for dinner last night
and here's what we found:
P
rice
:
$1.99 at Harris Teeter for the spice pack. I estimate the

total cost of ALL of the ingredients

, including the spice pack would run you about

$16

. This meal has a serving size of 8 - so that's

about $2 per serving

.
Easy to make

:
Yes - The times on the package were right on -

25 minute prep time and 15 minutes to cook

. I also REALLY liked that the

ingredients were pretty basic

and the

directions were super simple

- ground beef, onion, black beans, corn, tortillas, green chiles, tomato sauce, and cheese. Even the spices included in the pack were pretty basic - next time I will just use these spices from my pantry.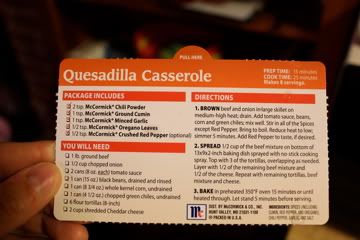 Success or Failur

e

:
success - even the hubs who really enjoys fancy stuff loved this and told me it was

"a keeper"

- I rarely get that!

This recipe will be a staple in my book

.
Pros:
This dish was

very easy and quick

to put together and we

LOVED the recipe and the end result

. I really like the idea behind these spice packages, especially if you have a recipe that uses

spices or seasonings that you would otherwise not keep on hand

. I also love that

everything was already measured out

so you just pretty much dumped everything together and your chances of putting too much or too little of something were slim - again, a great time savings.
Cons:
I feel like I'm always listing "pricey" as the con in my reviews. However,

if you already have these ingredients on hand, $1.99 for perfectly measured portions might be a little much

! However, finding a wonderful recipe thats easy to make is worth $1.99 to me and if this recipe had required something I don't usually keep on hand - this would have been perfect.
Other info

:
In case you decide to pick this up and try I thought I'd share that

I made this recipe as prescribed with the exception of leaving the canned corn undrained

. In looking at the consistency before adding the corn, I thought it would be too watery to leave the juice in so I did drain the juice off the corn and I think that was the right decision. Also,

each of the spice packets are individually sealed and labeled

which I thought was great in the event there was something you didn't want to add and hold onto for later use.
Would I buy again or buy for a friend?
Yes - not this recipe because I now have it and I keep all of these spices and seasonings on hand. However, I am

eager to try some of the other

recipe inspirations they have!