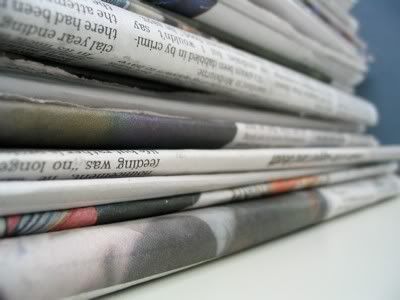 Are there things that just really put your
senses in overload
...the touch, sound, sight, or smell of something that just bothers you in a way you can't describe?! Or
maybe I'm the only crazy one
...wouldn't be the first time. Anyhow, i thought I'd share those very things that just really affect me for some reason...like in a way I can't be around them. They
don't make me mad
(unless the hubs does them because he knows they bother me) and I really don't know how to describe how they make me feel...its just not "good."
I guess they're just my quirks.
..and without further adieu here they are:
*
The sound of someone else eating or drinking
(specifically, the gulping noise when you swallow) - Whenever we eat dinner I always like to have background noise so I can't here anyone around me eating. Trust me, I know I make noise too but for some reason just the
chewing and gulping noise really bother me
.
*
The feel of newspaper
- This has always been something that bothered me - the
touch just feels gross
to me for some reason so I really try to avoid touching it - I know..weird!
*
Kitty/Dog hair on my comforter
- Ugh, nothing worse than getting in my nice warm bed after taking a shower and pulling the covers up only to have some kitty cat or puppy dog hair fly in my face. It really disturbs me -
I seriously keep a lint roller next to my bed
and lint roll the comforter before getting in to try and keep this from happening. For some reason, no matter how hard we try, we cannot keep our furbabies off our bed - its their
favorite spot in the house
!
Ok...so there it is...I've bared my soul just a little and shared some things about me that most people don't know. So now its your turn -
what quirky things bother you
- please share so I don't feel like I'm the only crazy one:)
J