So...
here it is
...my apologies for taking so long to post the
AFTER pictures
...most of you have probably forgotten I was even blogging about our kitchen remodel...but I'm so excited to be sharing our "after" pics!! If you want a refresh you can
find the "before" post here
and the
"during" post here
. We are still putting some finishing touches on the living area that was also a victim of this transformation but the dining room and kitchen are done...with the exception for a serious need for artwork and wall decor in the dining room...we're working on that.
As for what we did....
*
we tore out 4 walls
and added some support in our attic and underneath our house as one of the walls was load-bearing (we also put a long header in and basically have a huge cased opening from our living area to our kitchen/dining area - i was leery of this idea originally but love the results - it really gives some subtle room definition).
*
we replaced all of our kitchen cabinets and countertops and added the island
. we also moved the sink location to the island and placed the stove where the sink previously was.
*
we added a little computer/mail nook
so that when baby #2 becomes a reality we won't miss losing our home office. we worked with lowes on the cabinet design and they were able to include some "office-type" cabinets in our kitchen design so we really have a small home office built in to our kitchen but with the uniform cabinetry it blends really well.
*
we had all of the hardwood in our home refinished
and stained a dark walnut color and a satin finish clear coat put over them (we previously had a honey color with a high gloss coat which showed the dog scratches like whoa)...one of the best decisions we made. we actually also had some new hardwood installed in our kitchen which had previously boasted a beautiful brick laminate flooring (insert sarcasm here). i was completely unsure of how the results would turn out but you cannot tell where the old stops and the new starts...did i mention i love the nice man that did this work for us?!?!
*
we converted our boiler/furnace to natural gas from oil
. y'all, oil was making me a poor poor woman...natural gas is much more eco-friendly and allowed my hubs to get his coveted gas stove.
*
we added a lot of overhead lighting
to brighten things up.
*
we stressed, cried, screamed, laughed, moved out of our house, and in the end...couldn't be happier with results....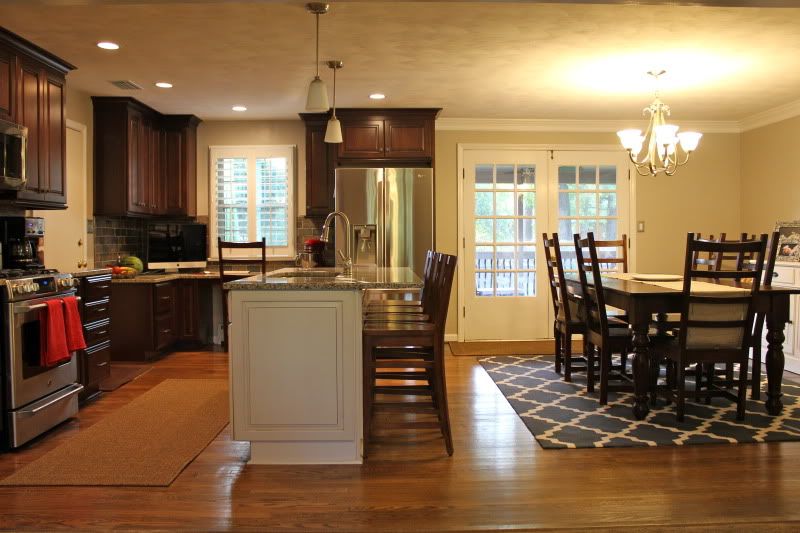 I have to admit...looking back at everything I totally wish I'd been better with keeping up with the pictures....here are some side-by-side comparisons of the changes...did I mention I'm really glad this whole process is over....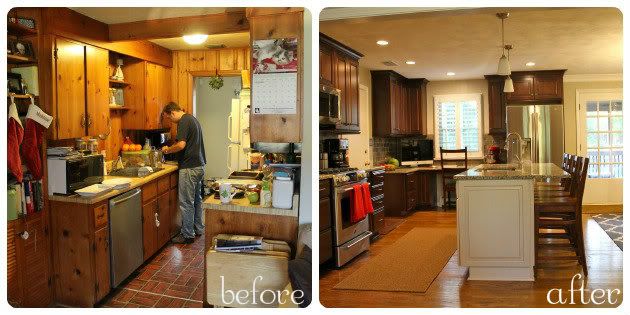 just looking at the before and after of the kitchen alone is crazy. i'm so used to the new and looking back at the old makes me wonder how we survived 5 years of crafting dinners together in our tiny kitchen!!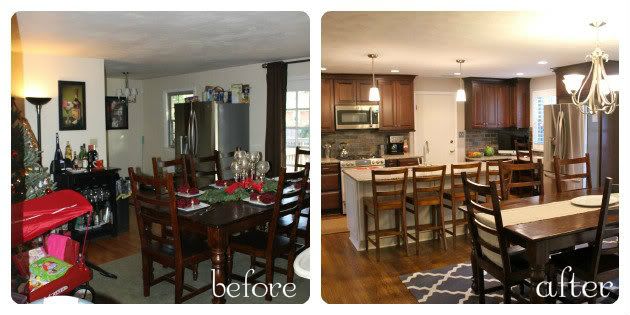 the pictures above and below totally highlight the
walls we removed to make this whole "open-feel" idea work
. we always knew we wanted open living space and we are just loving our new digs.
the picture above is actually from a few steps in from the front door. Crazy what a difference it is!!!
I'm hoping to have the last few little projects finished up SOON so I can share our living room transformation as well...
As always...any questions...I'm an open book - just let me know!
UPDATE: Here are the deets on where we got everything:
Cabinets: Kraftmaid cabinets from
Lowes
Counters: Kraftmaid granite from
Lowes
Tile backsplash: Slate subway tile from
Lowes
Stove:
GE cafe 30" dual-fuel range
direct from GE
Microwave:
GE cafe Advantium oven
direct from GE
Refrigerator:
LG 31 cubic feet french door from Best Buy
Dishwasher: Bosch stainless steel from
Lowes
Dining Room table and chair set - Distressed mango wood purchased from
Home Emporium
Light Fixtures: from
Home Depot
Sink Fixtures: Kohler from
Home Depot
Bar Stools:
Blair counter stool from Ethan Allen
Dining Room Rug -
grey trellis rug from Overstock
Kitchen rug -
savannah cane runner from Crate & Barrel
PS I'm also sharing this post as part of
Amanda's weekend bloggy link-up
...it's a great place to share your favorite post of the week and check out some craftiness, humor, and inspiration!!