Before I share all of the finished pics...I thought I'd share what it looked like mid-tear out. If you missed last week and want to see what we started with click here. The whole process took about 3 months but we only spent about 2 weeks actually not living in our home during the remodel process. The rest of the time...we were there living amongst the chaos. The first group of pictures shown below pretty much mimic the pictures I shared last week - with the exception of the top right picture which was actually taken while I was standing in the back of the house (the rest are from the front door). Its probably next to impossible for anyone that hasn't been in my house to identify what's what so I'll attempt to explain in the caption below.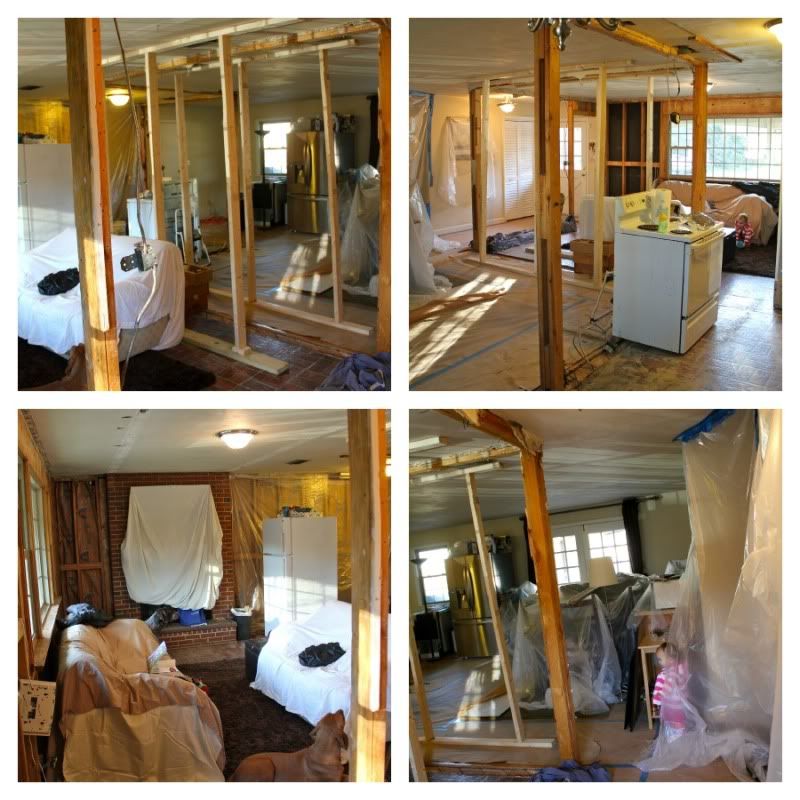 Top Left - Living area to the left, kitchen in the back corner, and dining area to right of picture. Top Right - Kitchen where the stove is, dining room to the left, and living are in the back. Bottom Left - Living area. Bottom Right - Dining Room straight back with hallway to our bedrooms/bathrooms covered in plastic on the right.


Our goal with our remodel was to remove the walls that had chopped up what we had envisioned as an open floor plan. Structurally, that was not possible as some of those walls were considered "load-bearing" and could sacrifice the integrity of the structure of our home which is another reason why we did not attempt to "DIY" this project...time being the other major obstacle. The contractor we used was able to put in some large cased openings which make it appear the space is open...but with a little definition of each area (living, dining and kitchen) and also gave us the structural support we needed. He also added some additional support in the attic and underneath the house. You can see in the pictures above the false supports that were built in during the interim so that our house wouldn't fall in:) Most of these pictures were from the first couple of weeks. The tear out of everything only took about two days and here is a picture of one of the trash piles that got hauled away...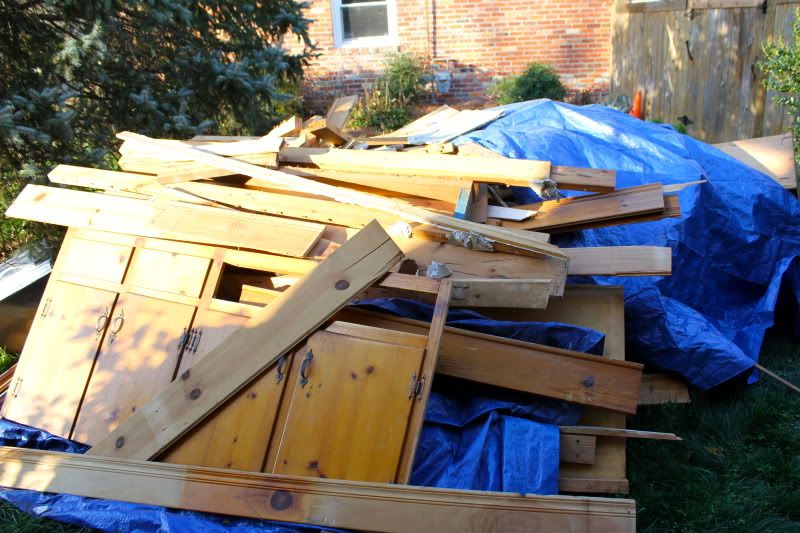 After the tear out was complete...the plumbers, electricians, and plaster guy descended on our home to get the new plumbing in place, new wiring done and old wiring re-done, and the walls and ceilings re-done so that it you would never be able to tell where anything used to be. We decided to flip the location of our sink and stove and add a bunch of overhead lighting so that was the bulk of the plumbing and electrical work. All of that work took about 2 weeks....during which we stayed in our home. They set us up with a makeshift sink and we had an old microwave we were able to use so while we ate most dinners out we were able to handle breakfast and lunch in our house. After that work was done...our cabinets were installed, however with one slight hiccup...one of our cabinets was delivered in the wrong color...meaning it would be another 5 weeks before our cabinets could be finished. In the mean time...we had the floors re-finished and stained a darker color - we also decided to go with hardwood in the kitchen which meant our flooring guy had to install some new flooring in our kitchen as well as in those spots where walls had been. With the stain being added and alot of experience on the part of our flooring guy, you would never be able to tell where the old and new is! We did move out of our house for two weeks while all of this was being done and our house was airing out. For our living area which had previously had the beautiful brick laminate flooring - we opted for carpeting as we figured that would be more comfortable. Once the last cabinet finally came - we were able to finish the cabinet install and move onto the next and most frustrating part of the process....the countertops.

Word to the wise - NEVER purchase the KraftMaid granite countertops from Lowes....EVER

. The price is fantastic...$33/sq foot for sealed granite...we were sold. What they don't tell you is that it will be at least 2 1/2 months from the time you order and pay for these counters for them to actually be installed and thats only if you have time to call them at least every other day...and make friends at KraftMaid to get a few strings pulled and the process moved a bit quicker...

NOT my idea of a good time

. Anyhow....enough of that soapbox - just short of Memorial Day - our counters were installed and we figured we were done enough for a party to christen our new home!!! I'll be back next week with the pictures now that everything has been done!!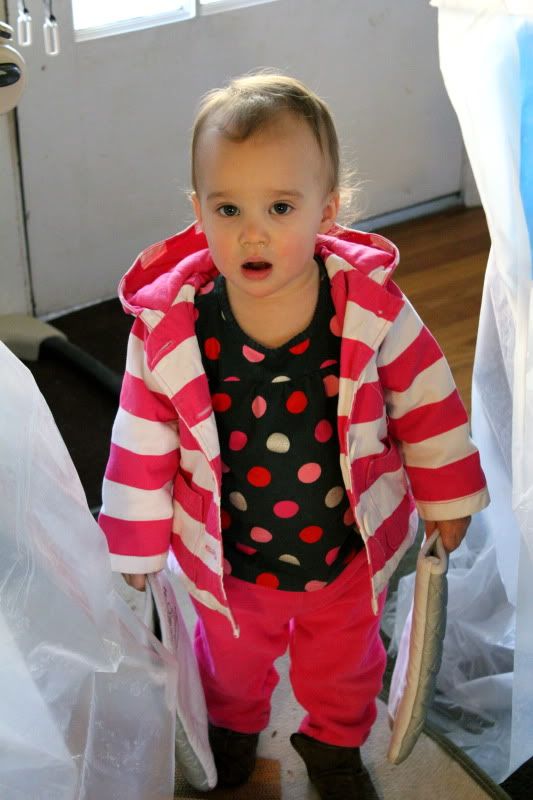 Addie's best "momma, what are you doing to my house" look...