From the day we looked at buying our house we knew major improvements were in store. The kitchen renovation was the most dire and I still look back and wonder how in the world we lived almost 5 years with a hallway-sized kitchen. In order to renovate our kitchen we also had to renovate our living space and dining room...basically half of our house. I know I can't fit it all in one post so I figured I'd spread it out over several and wanted to start with showing you guys how it looked before we got started...which actually began in February so please don't mind all of the Christmas decorations...
This was our pint-sized kitchen, which as you can see, didn't leave much working room for one person...let alone 2. Our cabinets and walls were knotty pine, with mis-matched appliances and the ever-popular brick laminate flooring. And if that wasn't enough...faux wood countertops were also added at some point.
Our living area was narrow and also boasted some knotty pine paneling (which we had painted to lighten things up in the interim) and beautiful brick laminate flooring (which we had shamefully covered with a warm brown rug) Our built ins to the side of the fireplace were barely deep enough to fit books and picture frames on...so the cable box just kind of hung off one of the low shelves...not exactly kid-friendly.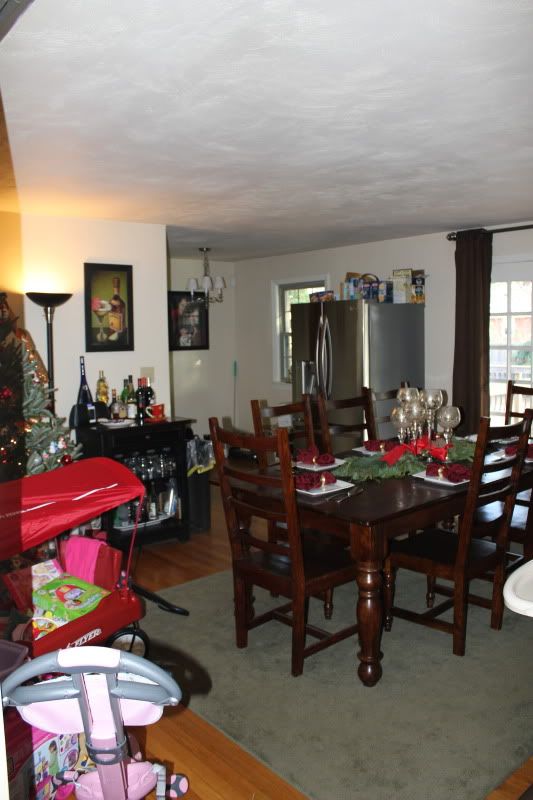 The picture above is our dining room, which was actually a great size but felt out of place given the small living and kitchen area. Oh...and you're probably wondering why our fridge is oddly placed out of our kitchen and in our dining room...that is actually where it still is today (but is now part of our kitchen) and we knew that was the plan so when we bought it we decided to put it where it would ultimately end up for purposes of installing the water line for the ice maker. It also would have NEVER fit in our kitchen...the best we could do was the standard white fridge that now serves as our garage refrigerator.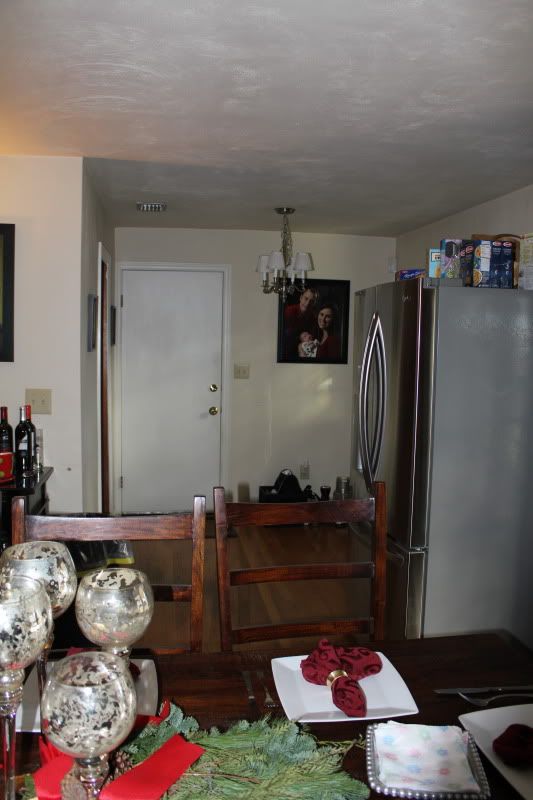 And lastly...this is a picture of the small area to the right of our kitchen which I believe was actually supposed to be the dining area (assuming our home was designed to have a formal living room which we used as our living area and a den which we used as our dining room). At one point we did have a small round table with four chairs but felt like it was still too crowded with that. The door straight ahead actually heads out to our garage, which we turned part of into a mud room/laundry room/pantry. So...thats it...I'll be back next week with some of the "in-process" pictures and let you know how much was involved and how long everything took...