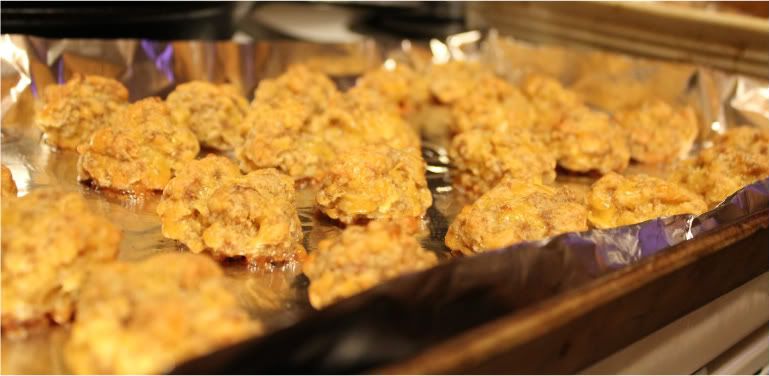 As I always say...I'm a recipe girl and an easy recipe girl at that. I get stressed when multiple things are going on in the kitchen at once and although I'm trying to learn to better manage the whole cooking process I tend to stick to easy recipes whenever possible. So, when
Lis
and I decided we would surprise the husbands with an appetizer dinner...I say "surprise" because we knew this wouldn't be their first choice but we were really craving an all appetizer dinner.
So...I decided I'd attempt sausage balls and luckily the end result was a good one.
Here's what I used:
this is what it should look like after being mixed
* 1 lb of mild pork sausage (hot sausage would be great for a spicier option)
* 1 cup of Bisquick
* 1 cup of cheddar cheese
And here's what I did:
* Preheat oven to 375 F
* Mix all of the ingredients with your hands until well mixed. This is key!!
* Form into 1 inch balls and place on baking sheet
* Bake 18 to 20 minutes or until golden brown
* Serve and enjoy!!
These were a big hit and make quite a bit...which was perfect for the 4 of us!!
J