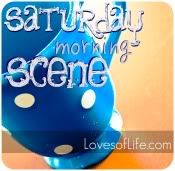 I'm joining up with the fabulous Katie from "
Loves of Life
" this Saturday morning to share our Saturday Morning Scene!
After being out of town all week for work...it is SO nice to be back home with the hubs and little one. Everyone somehow managed to get sick while I was away but Addie seems to be feeling much better this morning, despite the 2:30am wake-up call:( Lots of coffee and love from the little one are making this Saturday much better. After such a crazy week....we are planning to lay low and get all of those wonderful house chores done this weekend...hope everyone has a wonderful weekend!