Our girl is growing before our very eyes and as bittersweet as it is I am loving every minute of her. She is such a happy baby and lights up even the worst of days. I am so lucky to be her momma...I just love that girl to pieces.
What she's wearing
- Addie is wearing pretty much all 6-12 or 9 month outfits but she has completely outgrown her 9 month sleepers...almost overnight. I made a mad dash to BJs to get some more Carters sleepers (my favorite spot to get Carters stuff - selection is limited but the prices are almost always cheaper than anywhere else). I can remember looking at that stuff a year ago and thinking "gosh, that stuff looks so big" and now we're there....our girl is SO big!! Her cloth diapers are still on the second set of snaps and she is still doing well without extra liners at night.
driving the golf cart
Eats
- Addie is eating about five 5oz bottles a day and no longer nursing for her first feed in the morning - after two days in a row of being bit - true story - I had to stop. I just recently stopped pumping but am saving the details for a later post about the whole transition we just made a few days ago. In other news...this has been a huge month for solids...she is pretty much eating everything we eat...within reason. She had her first taste of meat this month (some roast beef from a roast I cooked in the crock pot) and really seemed to like it. She kept coming back for more so I let her eat as much as she wanted! I share table food with her and am really looking to start weaning her off of the pureed baby food and onto table foods. We also recently bought her some of the more toddler-ish snacks and she really seems to be LOVING these!!!
Moves
- Addie is still crawling all.over.the.place and getting into everything. She is also getting much more daring with her standing and even letting go of things and standing on her own. She also really enjoys her "walker" that she can push around....its still crazy to me to see her "walking" even though she is holding onto something. She also really enjoyed walking around the baby pool in her float...what a difference 2 months has made. I remember those first days at the pool at the end of May when she would just lounge around in her float...those days are gone.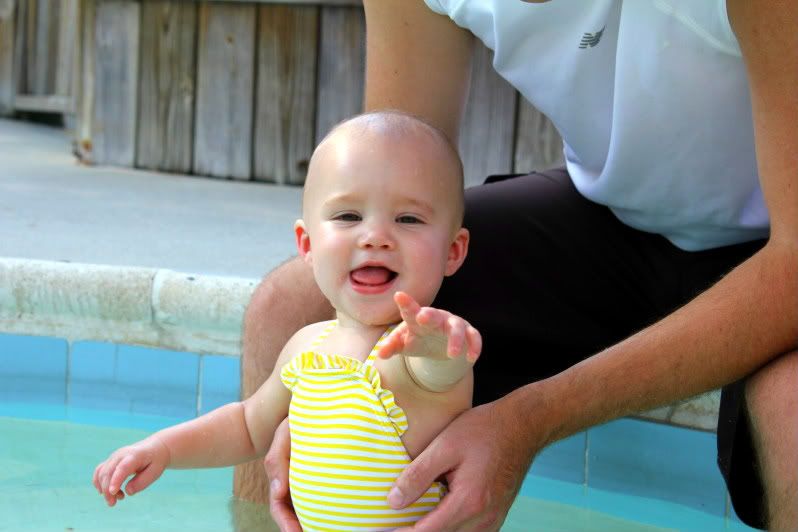 Addie's point!
Teeth coming in
and more to say
- Still no new teeth...just the two on the bottom - but they also don't seem to be bothering her right now which means we have a very happy household. My girl still loves to hear herself talk and she's also recently taken up pointing at everything. Her dogs and her bottle seem to be two of her favorite things to point at...no big surprise there.
Out and about
- We really haven't ventured far this month. Addie did make her first trip to the beach and loved it. She also celebrated her first 4th of July and surprisingly enough - she really seemed to enjoy the fireworks. There were no tears and she laid in grammas lap and watched the display! We celebrated quite a few birthdays this month with family and friends and Addie joined in for all of the festivities!
Counting sheep
- Addie sleeps great at night and has actually started going to bed a little later! We usually put her down around 8:30pm and she usually gets up around 6:30ish.