Good Saturday morning!!!
We are spending our Saturday morning hanging out on the floor with our girl who is
on.the.move.
We don't have any text book crawling but we do have army crawling and all sorts of other forward movement!! I am really loving this stage as Addie is really
starting to explore
things on her own and its so FUN to watch her explore the little world around her.
The
hubs' sis is here
with us this weekend and we are all thrilled. She's
great with Addie
and she's just a
super sweet girl
with an easy-going personality. Our day is pretty wide open, other than going on the hunt to
find a pool to join
for the summer - which I'm very excited about seeing as though next weekend is Memorial Day weekend!! I'm also hoping to drag everyone to
Home Depot/Lowes to look at cabinets
for the laundry room/pantry that the hubs and I had planned to complete this spring/summer.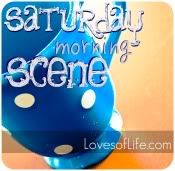 I've joined Katie over at
Loves of Life
on this Saturday morning for
Saturday Morning Scene
. You should head over and link up or check out how everyone else is enjoying their Saturday morning!!
J