The past two Saturdays as I blogged about
here
and
here
, I've spent a part of my morning at the local strawberry fields,
picking more strawberries than I could possibly eat

so I was determined to find others uses so nothing went to waste
. I got lots of great ideas (thank you SO much for all of the ideas) on how to use these strawberries and made a few different things but also decided I wanted to freeze some of these delicious berries so that I could
enjoy them during the winter in smoothies
and sauces. So, I thought I'd share a quick post on the two different ways I decided to freeze my berries!
I sincerely apologize to those of you that are more domesticated than myself and are wondering aloud right now
why I would write about something so obvious
! However,
I had no idea how to freeze strawberries
properly so I looked it up and thought I'd share what I found!
For both ways, I started by
r
emoving the cap and stems
from all of the berries and giving them a good rinse to get any dirt off.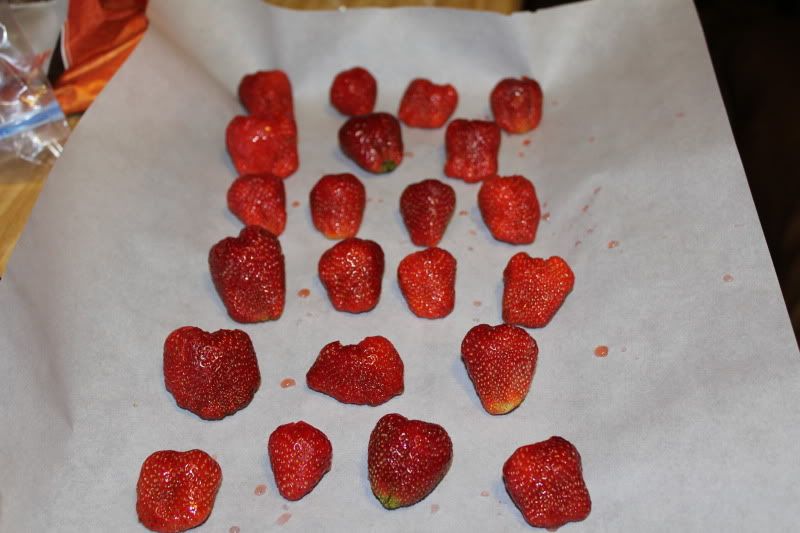 For those that I was
freezing whole
, I simply placed them on a
baking sheet that I lined with parchment paper and stuck them in the freezer for 24 hours
. The next day I pulled the berries from the freezer and placed them in a freezer bag and back in the freezer they went.
For those that I was
freezing in sugar and halved
, I cut each berry in half first. I then added a
tablespoon of sugar
and stirred everything around until all of the sugar was dissolved. I then
placed the berries in a freezer bag
and removed the excess air and placed in the freezer for storage.
As I said above, this was
SUPER easy and quick
and I'm glad I'll have these to use in my smoothies when strawberry season is over.
And...I almost squealed yesterday afternoon when I
found one ripe strawberry on our strawberry plant in our garden
while gathering some lettuce for dinner. This was the first year we planted any strawberries and we only planted one plant but it was exciting for me to find a ripe one and there are about 5 or 6 more that look like they will be turning soon:) Looks like I'll be doing more of these next year!
J