Good Saturday morning
to you!!!
I'm
SO thrilled it is Memorial Day weekend
and things are starting to get busy in this sleepy little beach town. Everything seems
a bit more alive
and I just love the start of summer!!! My
aunt and uncle from Michigan, whom I adore, are in town
for the weekend and I'm so excited to spend time with them - I have not seen them since my wedding 3 years ago and this is obviously the first time they've met Addie so I know its going to be a fun weekend!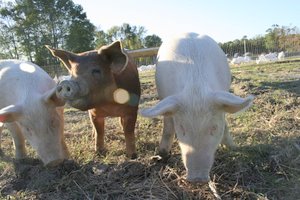 photo courtesy of Full Quiver Farm
We are
headed down to
the farm
this morning to
purchase some chicken
(not live ones - these have already been prepared to cook),
eggs, pork
, and fingers crossed -
some beef if they have any
. We try to do the natural and orgainc thing as much as possible in our house - within reason - and I do try to buy all natural meats but I'm very skeptical of what I'm really getting so
I found a farm that sells the meat from the animals they raise
on their farm. The family that owns the farm encourages you to visit and see the animals and this will be
our first time going to see everything and buy
from them so I'm very excited!!! I also think it will be
fun to see Addie's reaction to all of the live animals
they have that you can play with!
After we get back, I'm hoping to
enjoy some time pool side with the fam
!!!
Hope everyone is having a wonderful Saturday!!
Happy Memorial Day weekend
!!!
J