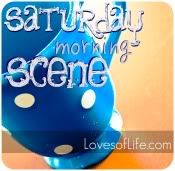 I'm linking up with Katie over at "
Loves of Life
" to share our simply marvelous Satuday Morning Scene. We are headed out to one of the home improvement stores to pick up some wood for our little pantry project we have going on...trying to beat the crowd so we are headed out early...ya, know?! I'm absolutely loving that its 4th of July weekend...I really enjoy all of the cook-outs and fireworks and celebrations.
Also...since I mentioned home improvements above...I should also mention that we just had our windows replaced so our view is a bit clearer this Saturday morning (because who cleans windows that are about to be replaced?? I've been saying that for 4 years...and the new ones are finally in:)). I love natural light...and the big window below is my favorite in the house...I can be a nosy neighbor from the comfort of my couch...kidding!!
the pics aren't that impressive but it looks 100% better in real life
Hope you're having a wonderful Saturday morning and doing something special for the 4th of July weekend!!
J