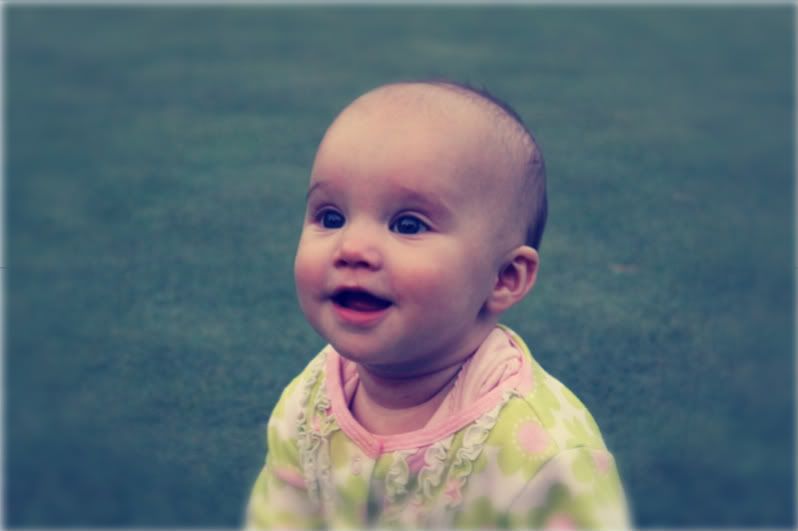 I say it every month and I mean it every month...time is simply flying by and my baby girl is growing before my eyes. She has a playful soul and is such a determined little girl...looks like she may have gotten the best of S's and I's personalities. I absolutely love the stage we are at right now...she doesn't require around the clock entertainment but it so happy to be around us!!


What she's wearing
- Addie is wearing pretty much all 6-12 or 9 month outfits but some of the 9 month sleepers seem like they may be getting tight on length...bummer. Once you hit 12 months on the Carters stuff alot of the PJs go to either 2 piece PJs or the footies have grippers...for, well...you know, the walking. I guess it just means we are almost there...my baby is well on her way to being a toddler. Her cloth diapers are still on the second set of snaps and she is still doing well without extra liners at night. At her well baby checkup this past Friday she tipped the scales at 17.7 pounds and measured in at 29 inches.
Eats
- Addie is eating about three or four 5oz bottles a day and still nursing for her first feed in the morning. I pump during the day but am finding that my supply is not completely keeping up with her demand so we are supplementing with a bottle of formula. She eats three meals of solids a day (stage 2) and generally gets some puffs in the morning but at our drs appt this past Friday he suggested that we start giving her a little of what's on our plates...just another sign of how big my girl is getting..sigh. Her food list currently includes the following items: cherries, cantaloupe, bread, spinach, green beans, apricots, broccoli, collards, oatmeal, plums, raspberries, yogurt, blueberries, prunes, peaches, zucchini, peas, apples, pears, bananas, sweet potatoes, pumpkin, winter squash, carrots, and rice cereal. We are planning to start giving her some meats this month which I'm very excited about!
Moves
- This has been a HUGE month for movement...Addie is full on crawling e.v.e.r.y.w.h.e.r.e...and does not want to be stopped. She pulls up on everything...stands against the door and will even test the waters by only holding onto her support with only one hand. Babyproofing is in full force in my household...because she is a magnet to anything that could potentially hurt her. I really hate that I am using the word "no" so much these days with her but she is determined to get where she doesn't belong (she's also a huge fan of the liquor bottles in the bar...yikes)!
if you look closely you can see her new chompers
Teeth coming in
Gummy grins
and more to say
- Yeah...you saw the right...gummy grins are NO more...we have two teeth on the bottom (one thats about 1/4 of the way in and the other just starting) and two working on coming in on the top. We've had several late nights this month because of this whole teething business...thats a hard adjustment to make after being accustomed to good sleep at night! My girl still loves to hear herself talk...I've caught her a few times in recent days chatting it up in her car seat and even laughing at herself...we think she's great and apparently she thinks the same! No new words...just a lot of chatter!
Out and about
- We've stayed pretty close to home this month...its been ridiculously hot so we have not ventured to the ocean but have really enjoyed our time at the pool. We did entrust Addie to a babysitter for the first time this month and the hubs and I did very well...surprisingly. We went to dinner with friends and had Addie stay at the babysitter's. She did well until the end but it was past her bedtime so I figured she was tired. The next time we tried it...the results weren't so good. Apparently she was pretty upset from the time we left until we came back...stranger danger and separation anxiety seem to be creeping in on us. We have also noticed that she doesn't want to be held by anyone that she doesn't see on an almost daily basis...I know this is a stage!
Counting sheep
- Addie sleeps great at night - unless her teeth are bothering her - poor baby! We usually put her down around 8pm and she usually gets up around 6:30ish. We are so incredibly thankful for her sleeping through the night - it certainly makes everyone alot happier!