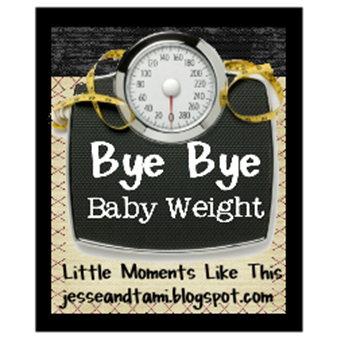 Linking up with Tami over at "
Little Moments Like This"

for my second week of "Bye Bye Baby Weight." If you're working towards the same goal you should definitely join in the fun!!

Week 1:
This Week's Loss/Gain:
–1 lb
Total Weight Lost:
36 lbs
Weight to Go-
24 lbs
Food:
I did pretty well this week choosing healthier options and not falling victim to my co-worker's candy bowl that always seems to call my name!! I did slip up a few times but I really tried to cut back my soda consumption (only had 1 all week) and drink more water.
Fitness:
I started the week off with a brisk 20 minute walk on Tuesday and took the plunge on Thursday and started week one of couch to 5k. I had planned to get in Day 2 on either Saturday or Sunday but with house projects and birthday parties I didn't get it in which means I have 2 days to complete before Thursday. But whoa...I SO need this!
Last Week's Goals:
- Eat dessert no more than 2 times this week-
I only had dessert 3 times so while I didn't make it I got close and certainly reduced the number of times I usually have dessert in a week...progress made but mission not accomplished.
- Eat at least 2 servings of fruit everyday-
I didn't make this but did eat more fruit than normal.
-
Work out three times this week
- I made it twice...shame on me for thinking I would have more time this weekend but I won't plan for that next week:)
This Week's Goals-
- Work out three times this week
- Only have dessert twice this week
- Drink more water and no soda!
Overall I would have loved to have been able to check off every goal above as accomplished but I know this is a work in progress for me so I'm not letting it get me discouraged. I made progress for sure and I know if I stick to working at those goals they will become part of my routine!
I'll be back this evening with the winners of my first giveaway!!!
J