So...4 weeks in of joining Tami over at "
Little Moments Like This
" for this wonderful link-up and all I can say is after setting monthly goals, joining the gym, signing up for health incentives at work....none of those - not even all of them put together have helped hold me as accountable as this weekly link-up and weigh in. I suppose public opinion means more to me than I've ever been willing to acknowledge...ha! SO, here's how the week went...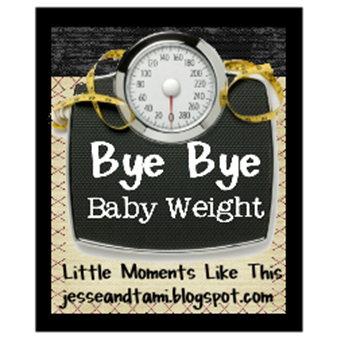 This Week's Loss/Gain:
-2.2 lbs.
Total Weight Lost:
26 lbs
Weight to Go:
24 lbs
Food:
This week was good...not stellar but I stayed pretty true to my meal plan. I was unsuccessful at adding in breakfast every morning so I really need to continue to work on that - adding that as a goal. I picked up some more oatmeal and bought some grits in hopes that by stowing it away in my desk drawer and adding a reminder to my calendar I can make sure to incorporate this into my daily routine.
Fitness:
Here is the day-by-day breakdown. The running this week seemed MUCH easier...I'm no longer getting that itchy sensation in my legs as I do when I start getting back into running so that makes the work-outs much better. The 30 minutes seems to fly by which always makes things easier too.

Week 3:

Monday - Day 1 of Week 2 of Couch to 5k
Tuesday - nothing
Wednesday - Day 2 of Week 2 of Couch to 5k
Thursday - nothing
Friday - nothing
Saturday - nothing
Sunday - Day 3 of Week 2 of Couch to 5k - Week 2 completed + circuit training at the gym

Last Week's Goals:
- Work out 3 times this week
- Only have dessert twice this week
- Drink more water and no soda



This Week's Goals-


- Work out three times this week - I was able to complete Week 2 of Couch to 5k this past week so guess what....finishing week 3 would make sense for this week!! I'd also like to incorporate some circuit training type exercises into my regiment this week so that I can start trying to firm up some of those areas that got a little "loose" during my pregnancy. So...I'm starting off small with 25 sit-ups 3 days per week.
- Complete 25 sit-ups three days this week - My stomach is certainly one of my areas that needs some work...so I've added this goal and hope to ramp up that number each week!
- Eat breakfast EVERY morning!
- Only have dessert twice this week - This past week this certainly seemed easier than the prior week I'm hoping that after another week I can lessen this number to 1. While taking advantage of some free personal training sessions at the gym I joined the PT encouraged me to not count calories one day a week so I could "shock" my metabolism. This made sense to me so I'm adhering to the advice and hoping to knock it back to 1 day a week to make sure I don't miss out on the "shock" factor;)
- Drink more water and no soda! - I still crave soda...especially on the weekends but I know that consuming the right amount of water is key to weight loss and a healthier me - side note: I've always been AWFUL about drinking water - I just never get thirsty. At some point I'd like to add a soda or two back to what I enjoy but I know if I do it too soon the soda will replace the water I should be drinking so I'm staying away for now!!
All in all...I'm pleased that I dropped the two pounds last week that I had put on the week before but was really hoping that number would have been a little higher. I seem to really be hovering around the 170 mark and I don't.like.it.one.bit. So, I'm going to try and eat less when eating my meals and avoid snacking on chips and salsa (a favorite of mine when I get home from work!).