Time for me to fess up on how well I did or didn't on my June goals...I'll be back this afternoon with my July goals!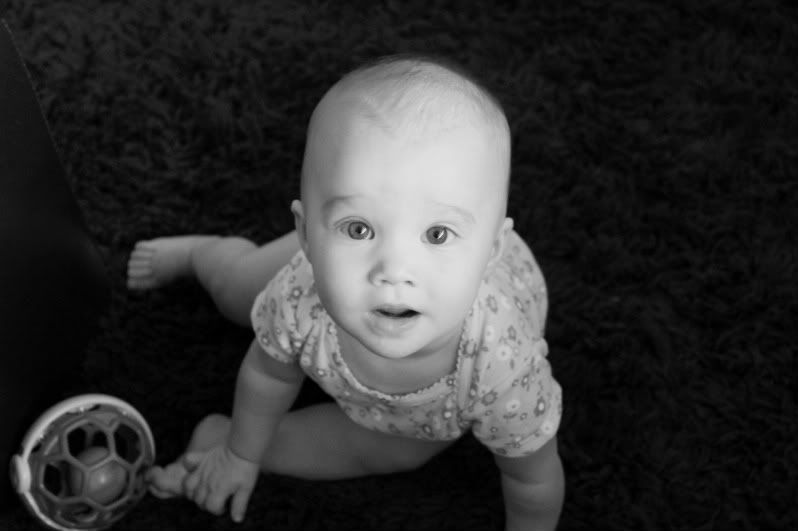 I can't believe she's getting SO big
1.
Re-organize Addie's room
- As Addie is growing up, I am quickly realizing that things that worked well before need to be re-organized because I either no longer need them or am using them in different places. I'd like to get her room re-orged to better fit our needs right now.
PASS

- I've definitely made some progress in this area. I've pulled out all of those things we loved and needed during those infant stages that no longer manage to keep her interest. I still can't get over how quickly she has outgrown things but it is exciting to see new stuff enter her room!
2.
Work-out 3 times a week
- I'm changing this up slightly because I'm finding that with Addie its sometimes much easier to get a work out in without going to the gym.
FAIL
- This has been touch and go as as many of ya'll know - trying to establish a work-out routine while working full-time and being a new momma can be tough. I really value every second that I get to spend with Addie outside of work and I hate to miss a minute of that to go work-out. Addie usually doesn't go down until 8 or 8:30pm so it makes it tough to work out that late and still get to bed at a reasonable hour and going early in the morning isn't really an option either because my hubs leaves for work very early. I have a jogging stroller and I really think that I need to utilize this to get out with Addie in it and get some running done - it's just been SO hot around here...I know - excuses, excuses, excuses. This will definitely be re-appearing in my July goals...I've got to do this!
3.

Organize the paperwork in my home

- Holy paper - my house has WAY too much of it. I have about 10 gazillion credit card offers that need to be shred/burned and bill stubs and other personal info that needs to be filed away. Without my budget Excel spreadsheet, I'm pretty sure nothing would ever get paid on time. I really need to get better organized in this department.

PASS

- I did this!! I was able to get everything filed away and put a bunch of paper in the recycle bin. I feel so much better now but I have to make sure I stay on top of this!!
4.
Complete our pantry/mudroom/laundry room
- This may be a bit of a "stretch goal" because our home projects NEVER get completed as quickly as planned - usually due to our reliance on contractors. However, we are converting the extra space in our garage into a pantry/mudroom/laundry room and I REALLY would like to be able to get it all done this month. My fingers are crossed we have reliable contractors that can get the work done quickly and we don't run into any major obstacles.
FAIL

- This was definitely a stretch goal and while we have made progress that I'm happy about we are nowhere near the end. We have successfully hired contractors to take care of the plumbing and electrical work - I couldn't believe how tough this was - we called 8 electrical contractors and only had 2 show up for their scheduled appointments - both had drastically different opinions and estimates! My hubs is planning to frame up the new wall this weekend and we've purchased the cabinets. I have a floor plan drawn out and after my husband is able to get the wall framed up and the electrician comes mid-July things should move along very quickly (my fingers are crossed we don't run into any un-anticpated hurdles).
5.

Treat myself to a manicure/pedicure

- This is my fun goal for the month - suffice it to say - its been WAY too long since I've been to get this done and my hands and feet show it. I need some help...seriously, its embarrassing.
FAIL

- Can you believe it?!?! Maybe this gives a little more credence to my reasons above about not working out. The hubs not only works but also goes to school and is taking some summer classes so I don't have much time to myself trying to accomodate his study schedule. And I simply cannot bring myself to take Addie into one of those salons because the fumes in those places are SO strong. So..this still desparately needs to be done and I'm hoping to do this this weekend while my hubs is in between classes!