Wow - another month has flown by - I can't believe my baby girl is already 7 months old!!! I knew time would fly by -
I just didn't know it would happen this fast
. The hubs and I constantly comment to each other how quickly she is growing up and how she is really starting to look like her own little person (and depending on which side of the family you ask - a different response as to whether its me or the hubs - personally, I think she's a solid blend:)) I fall more and more in love with this little girl with each passing minute and I just
can't believe how lucky I am
to be her momma!!
What she's wearing
- Addie has pretty much outgrown all of her 3-6 month clothing, with the exception of some Carter's stuff (has anyone else noticed how much larger their stuff is??) and is
wearing a lot of 6-12 or 9 month outfits
. I am so excited that we are slowly transitioning to a permanent pattern of warmer weather - I have so many adorable little
warm weather outfits
that I can't wait for her to wear. Not to mention the six (yes, I said six)
bathing suits
(I know its excessive...even for a beach town) she also has to wear. Her cloth diapers are still on the second set of snaps and she is still doing well without extra liners at night.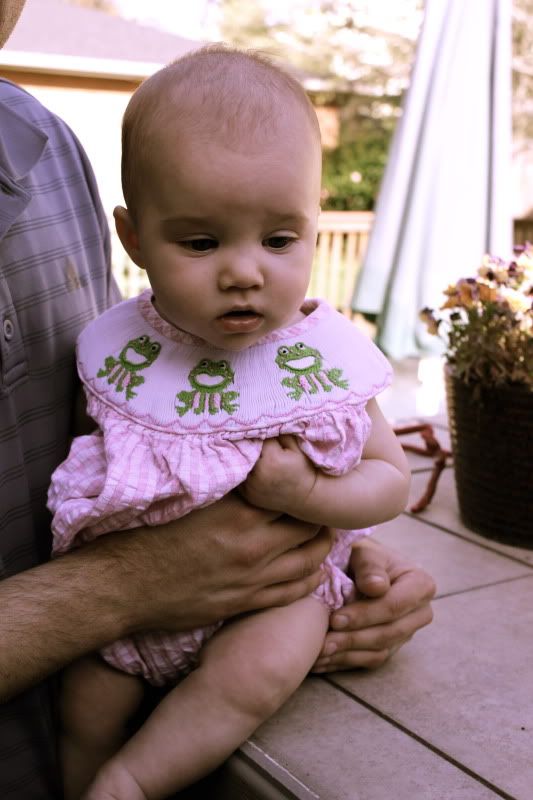 Eats
- Addie is still eating about 4 - 6 oz. bottles a day and still nursing for her first feed in the morning. I pump during the day but am finding that my supply is not completely keeping up with her demand so some days we are supplementing with a bottle of formula. She is now eating two - three meals of solids a day and she
also enjoys the puffs now
(which are good to keep her occupied in the morning while I'm trying to pump). We just introduced some mixed fruits and veggies (pumpkin - bannana and sweet potato-corn-apple) this weekend with a little thicker texture and she didn't seem phased by it at all. Other than the puffs, this girl is NOT a picky eater:) This month I also introduced her to prunes (these made my stomach turn so we only did them once), peaches, and zucchinni (we had already done peas, apples, pears, bananas, sweet potatoes, pumpkin, winter squash, carrots, and rice cereal). At her 6 month check-up the dr encouraged us to start letting her get little tastes from our plate so she has had "tastes" of a few things like
sweet potato pie and collard greens
- she really thought she was big time!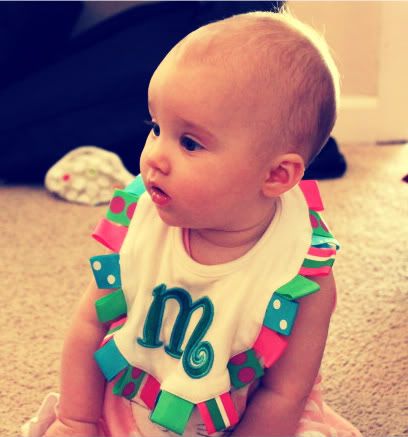 Moves
- Still
no crawling yet
, but I really feel like she is on the verge and I'll be very surprised if she doesn't get it figured out by the end of the month. She
rolls all over the place
which has made for lots of fun when it comes time to change diapers and outfits and trying to keep her contained to a blanket on the floor for tummy time(I guess thats what we are supposed to be calling it until they start crawling). Addie also adores spending time in her johnny jump-up and her
exersauser
.
Gummy grins and more to say
- Addie absolutely
adores her daddy
and it is so cute to seem them play together. She loves playing with her toys (she really loves her play laptop and the Einstein bendy ball) and stuffed animals (including the must have dog, Violet) and still adores our 2 pups. We also have
BIG
news in the speech department -
Addie said "ma -ma"
for the first time this month and has been saying it quite a bit since. I just fall to pieces every time I hear it and she gets so excited when you repeat it back to her. Almost as if she's thinking "yes, finally - we are speaking the same language!" Still no da-da...but hopefully it will come soon!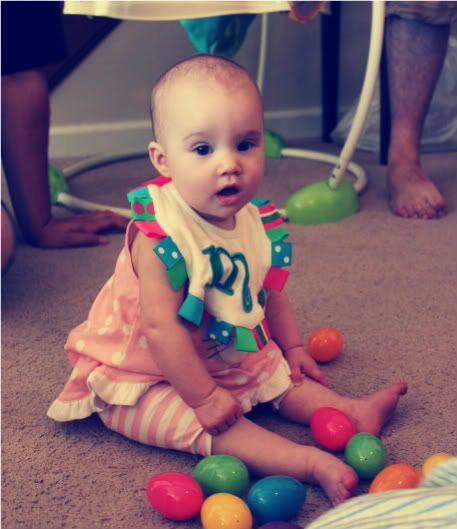 Out and about
- We
celebrated Addie's first Easter
this month and it was so special. I just love being a family of three and Addie is the first grand baby on both sides she is just made over ALL.THE.TIME:)
Counting sheep
- Addie sleeps great at night! We usually put her down around 8pm and she usually gets up around 6:30ish. We are so incredibly
thankful for her sleeping through the night
- it certainly makes everyone alot happier! We did have one rough week this month when Addie came down with her
first cold
:( She woke up a bit more often at night because she couldn't suck on her paci and breath through her nose which upset her terribly. There is nothing more upsettling than having a sick baby at home! But, she has fully recovered and seems no worse for the wear:)
I suppose it is
time to start planning her 1st birthday party
to avoid as much stress as possible but perhaps I'm being a bit overzealous here too!! I just really hate hearing the words, "we'll if you had asked a month ago, I might have been able to..." Seriously ya'll does this make me crazy...
am I starting too early
??
J