I wanted to blog today....but had a little bit of bloggers block until I came across this
fun link-up
which seemed to be just what I needed...you just pick 5 things that are rolling around in your head and blog em. Perfect for my little mind that is having difficulty putting anything together...so here goes it:
ONE:
Has anyone seen what I'll call the "moms section" at Hallmark. Funny..lighthearted cards for moms...I know everyone thought I was crazy as I snapped away with my phone at some of these cute cards that would be so fun to send to another momma to lighten her day. Here are some of my faves: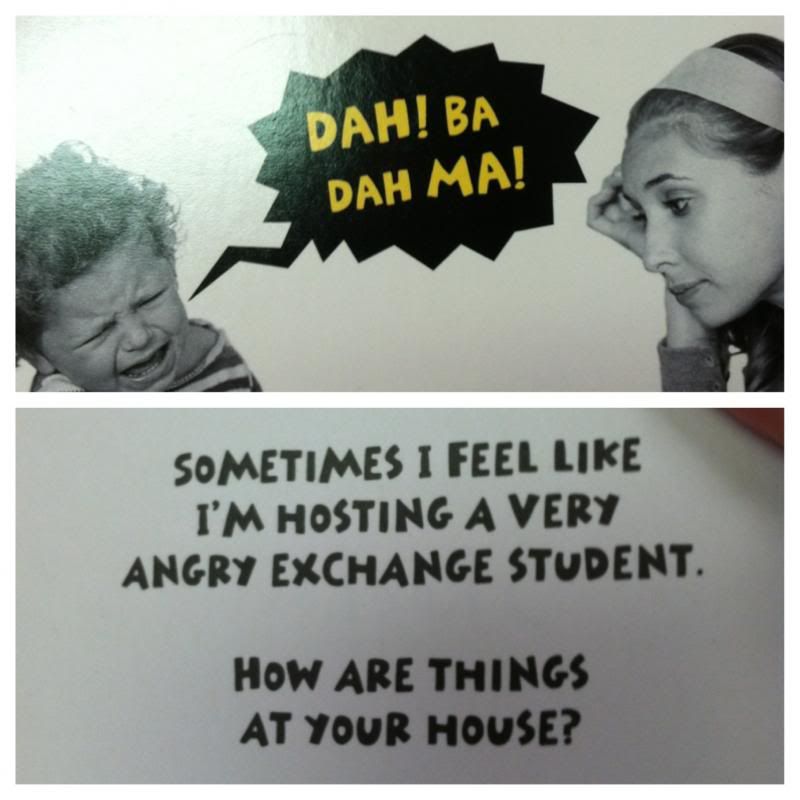 Or...when your toddler says something and you totally know what they are saying but everyone else looks at you and says "what did she say?"
HAHA...sometimes you just need some time out!
I can totally relate.
TWO:
I have an admission to make...I don't always change my clothes after getting puked on by my 6 week old...matter of fact, i rarely do. Kate has reflux...meaning I spend a good bit of my time getting puked on...she likes a squirt toy...any change in position or attempt to lift her up and it just flows. I'm in that weird stage where my normal clothes don't fit and maternity clothes don't either so my selection is limited and sometimes I just have to wipe it off and roll with it. Now the baby...she gets changed everytime she soaks her clothes...in case that was your next question.
THREE:
I'm on the two week countdown to returning to work....eeeppp...it hurts just to write that. I'm SO glad I chose to take an extra two weeks this time around but its still going to be hard...I'll be playing the lottery more often.
FOUR:
I got new running shoes last week...I've only used them once but gosh, I really needed those. What a difference a new pair of shoes makes....maybe now I can actually stick to my little workout plan.
FIVE:
You know you have a slight obsession with Toms shoes when you get this text from your bestie after Toms make another cameo on Zulily....
If you want to join in the fun or just read what everyone else is sharing...head over to "
The Good Life
" and link-up!