I know I've been a deadbeat blogger the last few weeks and I apologize for that but with Hurricane Irene a distant memory and my vacation almost over, I'm hoping to resume a normal blogging schedule and catch-up with all the goings-on of my blog friends!
I actually had to go back and check to make sure I'd written a 10 month update for Addie because I feel like she has grown SO much since I last blogged for a monthly update. I also cannot believe we are less than one month away from her 1st birthday!!!
Long gone is the baby I brought home from the hospital eleven months ago
...this little girl is blossoming and growing by leaps and bounds and I couldn't be prouder!
What she's wearing
- Addie is wearing all 6-12, 9 month, and/or 12 month outfits - I know once the cooler weather hits she will likely be in all 12 month clothing as so many of her summer outfits are dresses or tops and shorts so her long skinny legs fit. Her cloth diapers are still on the second set of snaps and she is still doing well without extra liners at night.



Eats
- Addie is still drinking about five 5oz bottles a day and eating everything in sight. We share alot of what we eat with her with the exception of anything with nuts, strawberries, and exotic fruits (not that we generally sit around eating papayas and mangoes anyhow). I'm also
giving Addie her food in bite-size pieces
instead of mashing everything up. She really enjoys feeding herself and
LOVES to eat
!!!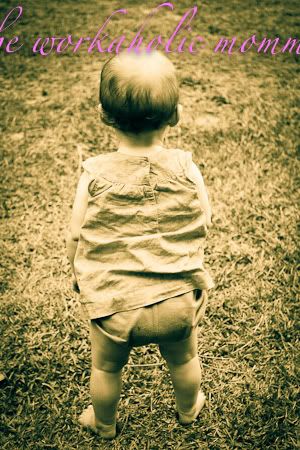 Moves
- Addie
took her first step
last week while we were on vacation and I think we scared her with all of the clapping and praise. She looked a bit shell-shocked but she is still taking one step from time to time before dropping to her knees to crawl. She has gotten SO fast with her crawling that we are constantly on the move trying to keep up with her!! I can only imagine what its going to be like once she starts walking and chooses that as her preferable method of transportation.
Teeth coming in

and more to say
-

We now have two top teeth

in addition to the two on the bottom. Her top two teeth broke through last week and she really struggled with it. I hate seeing her in pain and not being able to do anything so I'm really hoping we'll have another break before any more start trying to break through. Addie is

still my little "chatty cathy"

but she's been that way since we brought her home from the hospital and I love hearing all of her little sweet sounds. She has

added "poppa" to her words this month

which puts a smile on my dad's face because that's what he is hoping Addie will call him!!

Out and about
- This was a big month for Addie as she took her first vacation to the Outer Banks and South Carolina. She really seemed to enjoy both get-aways and I just love her expressions and envisioning what's going through her mind when we get to new places!! While in South Carolina she went on her first wagon ride and got to see horses, chickens, water buffalo, turkeys, peacocks, and lambs! She was fine as long as the wagon was moving along but she didn't approve of the stops so that the guide could share information and tell stories. She also survived her first hurricane and attended her first birthday party to celebrate Trey turning one!



Counting sheep
- Addie is still sleeping great at night but her naps are all over the place! We usually put her down around 8:30pm and she usually gets up around 6:30ish.