I simply cannot believe that in 3 week short weeks, we will be
celebrating Addie's first birthday
...I'm not at all emotional about it....partly because I'm in full party planning mode and partly because I don't think it's even really hit me that it's been year since my life changed for the better in so many ways. My weekend was almost completely consumed with doing "test-runs" of crafts and cupcakes. We missed having a sensible dinner last night because the kitchen was out of commission for anything other than the "made from scratch" cupcakes I was trying so hard to make and time just got away from me. And yes...those
cupcakes were what we had for dinner
(yea, I'll be back later this afternoon with "Bye-bye baby weight" because I've gotten WAY off track lately). So...anyhow, just thought I'd share some pics of how things are evolving...
I ordered the invitations
and thanks to
Tiny Prints
they are totally helping me out (because I somehow lost track of time and was a little late ordering...oopps!) and shipping the invites directly to my guests and all I have to pay for is the stamp! I'm pretty sure thats how they work which is wonderful...and saves me some time too! Here's a proof...with all of the personal info omitted: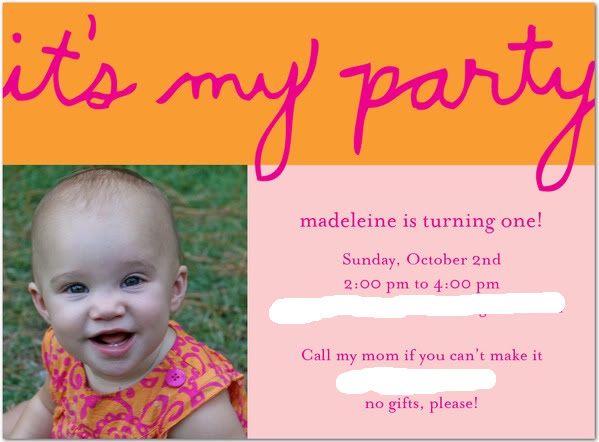 the front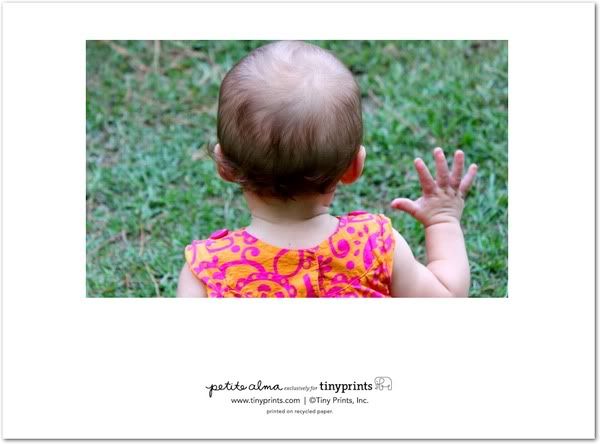 the back
And the cupcakes...which I have decided to take on the task of making
- it's well worth it for the difference in flavor than the box made...and while I can sometimes be guilty of spending money on silly things...$90+ for 2 dozen cupcakes is where I draw the line.
I'll be adding some small pearl white ball sprinkles and a silver tin wrapper to give the whole "bath" effect...along with a topper with some duckiness on it!
Addie's party outfit also arrived in the mail this week
and I was SO excited to receive it....I went back and forth trying to decide whether to get her something smocked or go with something a little more casual and fun and ultimately ended up deciding that casual and fun matched best with her spunky little personality.
Jennifer
over at Brayla Bees took my ideas and ran with them and did an awesome job of incorporating the party colors and theme -
I LOVE it and Addie looks adorable all dressed up in it!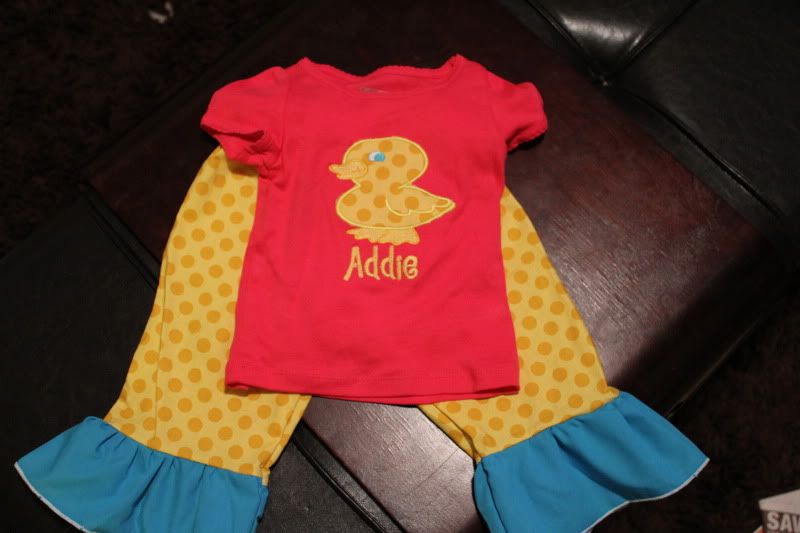 the shirt is actually a pink - this pic does not do this justice!
And lastly...here is some the craftiness from this weekend that was going on in my house.
I made my first tissue paper pom-pom and almost finished my first balloon wreath
(thanks to AP over at
ILYMTC
- her lovely tutorial helped me make this happen!!).
the pom pom
the balloon wreath
I still feel like I have SO much to do
...but things are getting there and I'm slowly marking things off the list...I'm trying to take it all in and enjoy everything going on...
so far so good
!!!