Despite a one day departure delay due to Hurricane Irene...we were still able to enjoy 4 glorious days in one of my favorite states...South Carolina. We actually stayed about 45 minutes outside of Charleston in a lovely log cabin on some stocked fishing lakes with my parents. It's very peaceful there and with Charleston close by we had plenty to do! I won't bore you with the details but I'm hoping to hit the highlights by sharing our day by day with some pictures and a few words thrown in!
Sunday
After arriving Sunday evening and unpacking everything it was bath time for Addie. After finishing her bath - I started getting her ready for bed and then let her crawl around as the hubs and I discussed what we wanted to do the next day. She was out of our sight for no more than 15 seconds when we heard a splash...apparently Addie wasn't done with her bath! I embraced the moment by grabbing the camera:)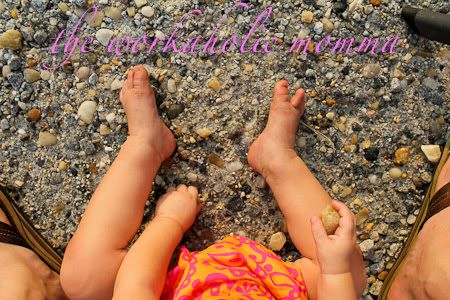 Monday
My parents didn't arrive until Monday afternoon so we spent most of Monday hanging around the cabin and checking out all of the ponds, trails, and activities. After my parents arrived, the guys enjoyed some time fishing the ponds and catching catfish!!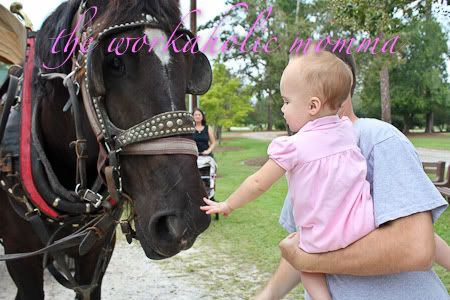 Tuesday
Addie met her first horse on Tuesday as we took a covered wagon ride around the property and learned alot about the history of the property and the current conservation efforts the property has in place. The guys also did some more fishing and catching!!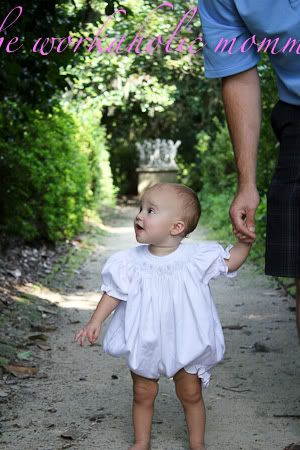 Wednesday
Wednesday was the day we ventured into Charleston but not before spending the morning in Summerville, SC at the
Middleton Place plantation
. I'm a huge dork when it comes to history so I loved touring the plantation and learning all about the Middleton family (no relation to Kate Middleton...yep, I asked!) and the antebellum era in South Carolina. We spent the afternoon and evening in Charleston walking the battery and drooling over all of the beautiful million dollar homes.
Thursday
This has to be one of my favorite pictures...EVER! Nothing sweeter than watching the special bond my dad and Addie are developing!! This picture was taken steps from our cabin door!! The guys golfed on Thursday and my mom and I strolled with Addie in tow around the property before departing in the afternoon.
This was certainly one of the best vacations we have ever been on and are really looking forward to making it annual thing.
J