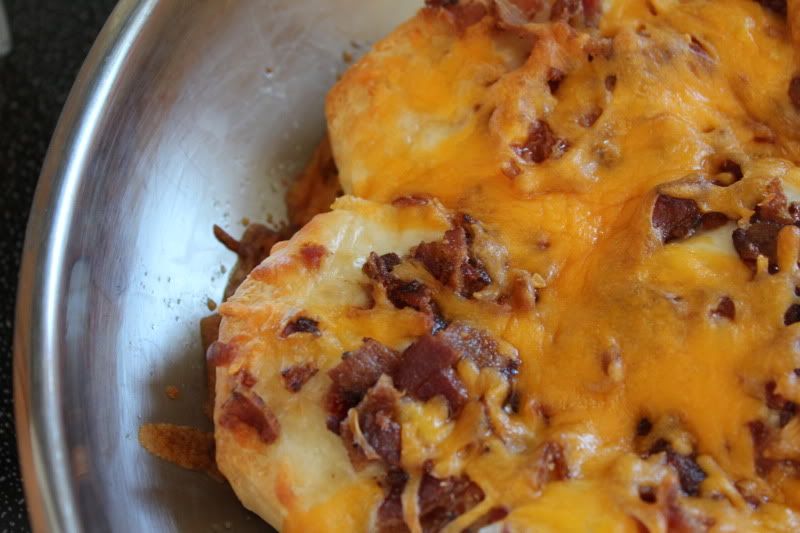 Bacon...cheese...biscuits...and more cheese...I mean, really?! All baked together for some breakfast yumminess...oh, and yep, its easy too (but you already knew that because otherwise you wouldn't find me here blogging about it). While we spent our week in the Outer Banks we planned out everything we were going to eat so we knew what we needed to bring down and while this was my first time trying this recipe (thank you, Pinterest - you can find it
here
)...I had no worries...because seriously, how could all of that together be bad?! So...here's the scoop on how to make your own:

Supplies:
* 1 can of refrigerated biscuits
* 1 cup of mozzarella cheese (shredded or 6 slices)
* 1 cup of crumbled bacon
* 1 cup of shredded cheddar cheese
* 2 tablespoons of butter
* Medium oven-safe skillet (cast iron will probably work best but I used stainless and it worked fine)
And then....
* Preheat oven to 350 F
* Grease your skillet with the butter
* Place the biscuits in the bottom of the skillet
* Top the biscuits with the mozzarella, then the bacon, and finally the cheddar cheese
* Bake for 15-20 minutes, until cheese is melted and biscuits are cooked through
* Serve warm and enjoy!
Don't tell Santa...but, this might be our Christmas morning breakfast.