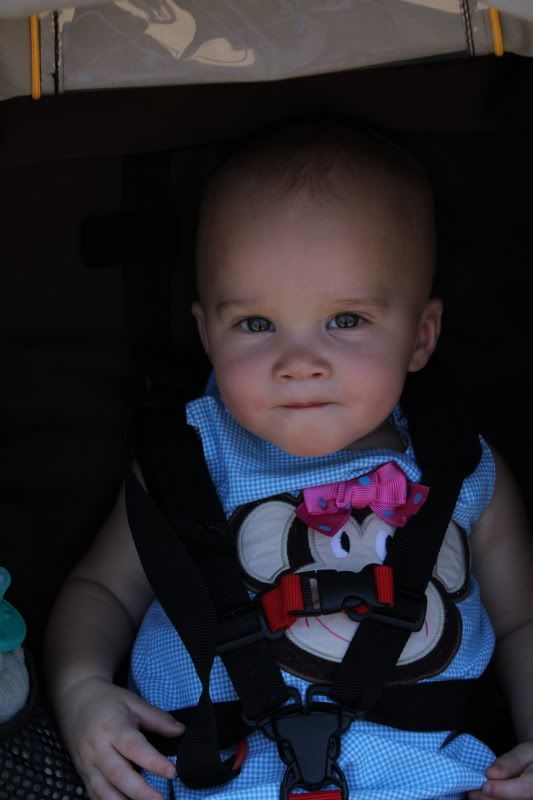 strolling around the zoo
Thanks to everyone for all of your sweet birthday wishes to my baby girl!!! I am struggling to say the words
"my little girl is 1"
...i just want to say "12 months" or "a little over 11 months..." but the truth is we are no longer counting months!! Anyhow...enough of my pity party - here is everything my busy girl has been up to over the last month!
What she's wearing
- Addie is wearing all 6-12, 9 month, and/or 12 month outfits - with this cooler weather finally making an appearance she has been really leaning more towards almost all 12 month outfits but can still fit in alot of her smaller stuff. Her cloth diapers are still on the second set of snaps and she is still doing well without extra liners at night.



Eats
- With her first birthday came the
transition to whole milk and we made the move from bottle to sippy cup
!!! She seems to be really enjoying it and was a little gassy on the first day of the change but seems to be fine now. We've added grapes and a lot more finger foods to her diet. She does enjoy playing with her food when she's not hungry which creates quite a mess but she's learning!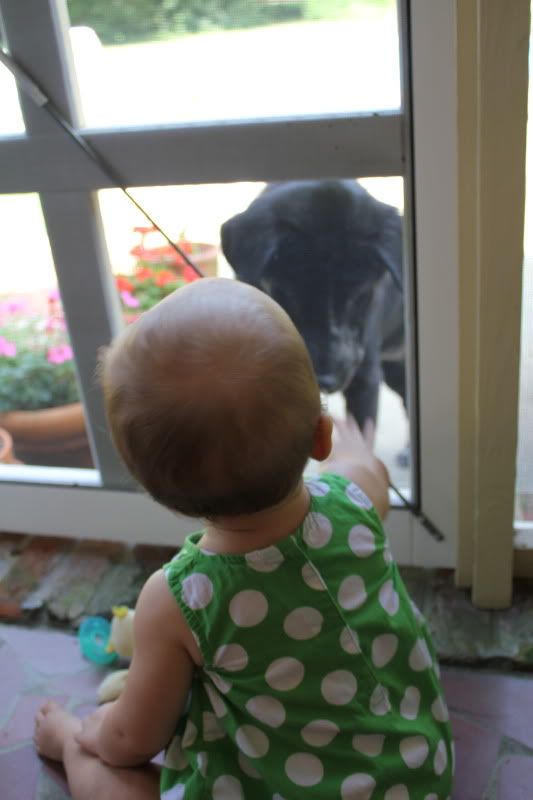 playing with Diesel through the screen
Moves
- Addie is
almost a full blown walker
these days. She still crawls from time to time but this last week has really started to walk whenever she wants to get somewhere. I still can't believe how quickly this all happened!
Teeth coming in

and more to say
- Addie has

added another tooth on the bottom and another on the top

(both on the left side). She still absolutely loves to chat it up but is starting to get a little shy around new people and has really become pretty clingy lately. She will now point to the dogs and say

"doh"

and she calls the cat

"ki-ki."

It really means so much to me to see her enjoy our furbabies as much as she does!!

Out and about
- We

took Addie to the zoo

for the first time this month and she had a blast. She really enjoyed the bears and beavers...and by all accounts thought the tigers were pretty cool too!! We will definitely be going back soon...especially before the cold weather cuts my fall short! Addie also

attended her first Old Dominion University (ODU) football game

- which is ironic considering I went into labor with Addie at an ODU football game! She wasn't all that impressed but like her momma...

enjoyed the tailgate the most

!
the bear was a big hit!




I'm working on the first birthday post so I can share all of the deets of Addie's big day....and I also wanted to share Addie's stats from her doctor's check-up this week!
Height: 31 inches
Weight: 20.0 pounds